Multiple Intra-articular Steroid Hip Injections Bring Greater Infection Risk
Key findings
Patients having multiple intra-articular steroid hip injections in the year before total hip arthroplasty showed triple the periprosthetic joint infection rate compared to those having one
No correlation was found between the type or dosage of steroid used and the frequency of infection
Whether in the multiple or single intra-articular steroid hip injections groups, infection rates did not significantly differ among patients who received the injection within 90 days or more than 90 days before total hip arthroplasty
Methicillin-sensitive Staphylococcus aureus (MRSA) is the most common infection type in the single and multiple injection groups, respectively
Infection types found in the multiple injection group but not in the single injection group were: Serratia marcescens, Propionibacterium acnes and Staphylococcus epidermidis
Despite their popularity for temporary pain relief, intra-articular steroid hip injections (IASHIs) for osteoarthritis of the hip have been linked to necrosis, fracture and infection. The possible impact of what might occur following multiple IASHIs prior to total hip arthroplasty (THA) had never been assessed. Mass General researchers set out to evaluate this impact by comparing patients' risk of periprosthetic joint infection (PJI) after a single IASHI to multiple injections before THA.
Subscribe to the latest updates from Orthopaedics Advances in Motion
A retrospective review of patients undergoing cement-less ipsilateral THA between 2002 and 2011 was conducted and published in the Journal of Arthroscopy in 2017. A cohort of 106 patients who received two or more fluoroscopic-guided IASHI was compared to a cohort of 350 patients who received one IASHI in the same manner in a 12-month period before THA. The groups were matched by age, gender, American Society of Anesthesiologist score, presence of diabetes mellitus or body mass index.
Researchers identified patients with any of the following outcomes:
PJI infection
Follow-up operation for infection including irrigation and debridement
Head and liner exchange
Revision surgery for infection
Antibiotic spacer placement
Resection arthroplasty
Average duration to follow-up for patients in the single and multiple-injection cohorts was 28.9 months and 24.2 months, respectively. For all patients requiring repeat surgery, culture results were recorded.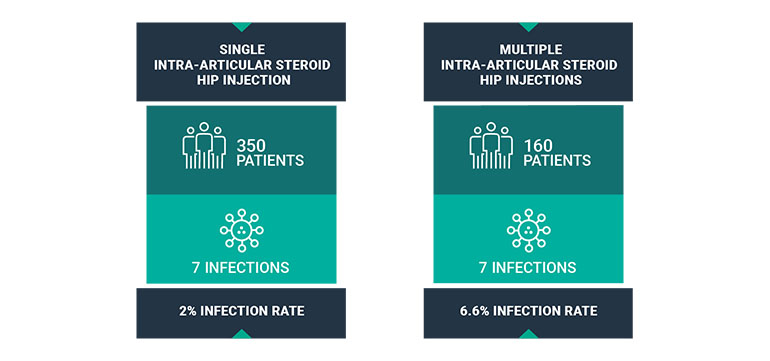 The review found that single and multiple-injected cohorts had different infection rates of 2.0% and 6.6%, respectively (P = .04). No correlation was found between the type or dosage of steroid used and the frequency of infection.
Regarding corticosteroid, or injection type, methylprednisolone acetate 40 mg injections were used more frequently in the single injection group (p ≤.001), while triamcinolone acetonide 60 mg and triamcinolone acetonide 80 mg were used more in the multiple injection group than the single injection group (P = .003 and .037, respectively).
Timing of last injection prior to THA did not have an impact. The average duration from the most recent IASHI to THA between the single- and multiple-injection cohorts (148 vs. 127 days) did not have an impact. Also, whether in the multiple or single intra-articular steroid hip injections groups, infection rates did not significantly differ among patients who received the injection within or more than 90 days before THA.
Methicillin-sensitive Staphylococcus aureus is the most common infection type in the single and multiple injection groups, respectively. Also present were beta hemolytic streptococcal and Proteus mirabilis. Infection types found in the multiple injection group but not in the single injection group were: Serratia marcescens, Propionibacterium acnes and Staphylococcus epidermidis.
In both groups the most common infection treatment type was irrigation and debridement. Other treatments included one- and two-stage revision surgery, and resection arthroplasty.
Previous research has linked IASHIs to infection, fracture and even necrosis. The evidence in this study supports alerting patients to the elevated PJI risk if they are considering or undergoing two or more IASHIs prior to surgery for osteoarthritis of the hip.
view original journal article Subscription may be required
The Journal of Arthroplasty
Learn more about the Department of Orthopaedics
Contact the Center for Hip & Knee Replacement