Inactivating Mutation in the Histone Deacetylase SIRT6 Discovered to Be a Cause of Fetal Demise
Key findings
Researchers from the Massachusetts General Hospital Cancer Center detected a homozygous missense mutation (conversion of Asp63 to a histidine, designated D63H) in the SIRT6 gene, which directs the production of a chromatin-associated histone deacetylase
Tests of induced pluripotent stem cells derived from the fetuses demonstrated major defects in their ability to differentiate into embryoid bodies, cardiomyocytes or neural progenitor cells, all due to a failure to repress pluripotent genes
These results identify a human syndrome of perinatal lethality that is defined by the inactivating mutation in SIRT6
Mutations in DNA methylation and chromatin factors can result in neurodevelopmental syndromes, but the affected individuals usually live into adulthood. Whether such mutations can contribute to embryonic or fetal demise has been unclear.
Subscribe to the latest updates from Cancer Center Advances in Motion
SIRT6, a histone deacetylase, is a chromatin regulator implicated in genomic stability, glucose homeostasis and tumor suppression. In a previous study, published in Nature Cell Biology, researchers at Massachusetts General Hospital Cancer Center and elsewhere found that mouse embryonic stem cells from which SIRT6 had been knocked out failed to differentiate properly due to an inability to repress pluripotent genes.
A new study by Raul Mostoslavsky, MD, PhD, the Laurel Schwartz professor of oncology at the Mass General Cancer Center, and colleagues expands on this work. In Genes & Development, they describe for the first time a human syndrome of perinatal lethality defined by an inactivating mutation in SIRT6.
Four Affected Fetuses
The researchers studied a consanguineous couple who lost four pregnancies at gestational ages of 17 to 35 weeks. Prenatal ultrasound had revealed a number of abnormalities, including intrauterine growth restriction, microcephaly, craniofacial anomalies and congenital heart defects.
The team, in collaboration with Dr. van Maarle from the Netherlands, detected a homozygous missense mutation in SIRT6 in the fetuses—the amino acid Asp63 was converted to a histidine. This mutation, D63H, is present at very low frequency in the general population in a heterozygous form, but it had never been found in a homozygous state.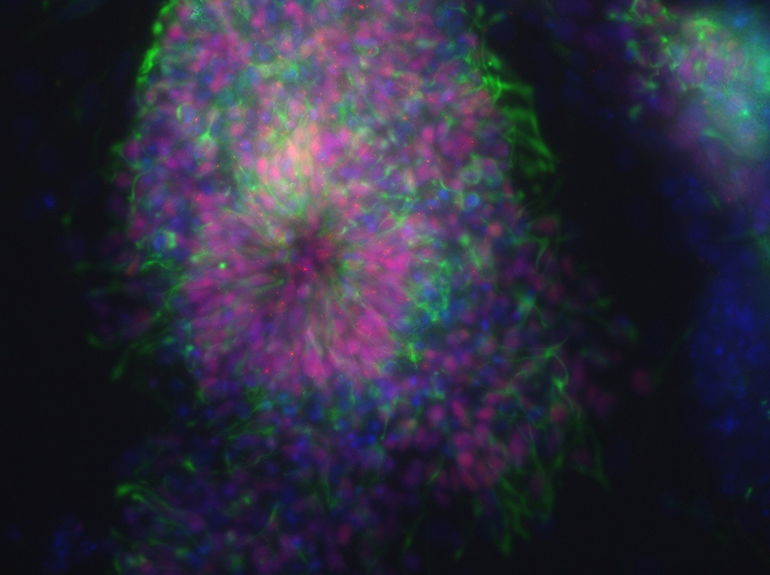 Cell Experiments
In tests of induced pluripotent stem cells derived from the fetuses, the researchers were able to mimic the severe heart and neurological defects. The cells failed to differentiate into embryoid bodies, failed to form functional cardiomyocytes and displayed delayed formation of neural progenitor cells, all due to a failure to repress pluripotent genes.
Interpreting the Findings
The D63H loss-of-function mutation in SIRT6 results in a completely penetrant perinatal lethal phenotype, probably due to the inability to repress embryonic genes. SIRT6 appears to be critical to proper cell lineage differentiation and organogenesis throughout fetal development.
view original journal article Subscription may be required
Learn about the Mostoslavsky Lab
Refer a patient to the Mass General Cancer Center