Treating Liver Cancer Using Hepatic Arterial Infusion Pumps
In This Article
A multidisciplinary team of physicians at Massachusetts General Hospital is honing techniques necessary to treat patients with unresectable liver metastases
Surgical implantation of a pump and catheter promotes the direct delivery of chemotherapeutic drugs and optimization of their potential antitumor effects
Patient outcomes suggest the method is effective in downstaging tumors, improving overall survival, and reducing tumor recurrence
Physicians at Massachusetts General Hospital are refining and expanding the application of a technique capable of effectively treating unresectable liver metastases.
Subscribe to the latest updates from Cancer Center Advances in Motion
"In cases of liver metastases originating from colorectal cancers, patients presenting with unresectable tumors have limited treatment options beyond systemic chemotherapy," says Motaz Qadan, MD, PhD, a hepatobiliary and pancreatic surgical oncologist in the Mass General Cancer Center, a surgeon in the Division of Gastrointestinal and Oncologic Surgery at Mass General, and associate professor of Surgery at Harvard Medical School. "Hepatic arterial infusion pump [HAIP] therapy offers an effective treatment option with the potential for surgical resection down the line."
Addressing Colorectal Liver Metastases: A Common Malignancy Associated With High Mortality Rates
Colorectal cancer (CRC) is the second-leading cause of cancer-related deaths worldwide, with colorectal liver metastases (CLRM) accounting for approximately 50% of all metastases in CRC patients. Although tumor resection or ablation is the only potentially curative treatment, up to 75% of patients develop post-resection recurrence.
Approximately 75%–90% of CLRM initially present as unresectable tumors (those that cannot be removed owing to their size or location) that demonstrate low response rates to systemic chemotherapy. A phase II clinical trial in 2015 designed to address the dearth of effective treatment options demonstrated HAIP therapy's efficacy in managing unresectable CLRM to allow some patients the ability to undergo resection and improve survival outcomes.
Dr. Qadan explains that HAIP therapy was initially applied as adjuvant therapy to prevent recurrence in patients that had already undergone liver resection. However, subsequent data consistently demonstrated the method's capability as a first-line treatment to downstage patients with unresectable CLRM to resectability. "This was a major finding that provided a possible treatment option to patients that previously had none."
Targeted Drug Delivery to Optimize Liver Metastases Treatment
Blood is supplied to the liver via the portal vein and hepatic artery. Because CLRM primarily derives its blood supply from the hepatic artery, HAIP therapy is administered using an implantable pump with a catheter surgically inserted into the artery. This offers multiple advantages, including:
Exposure of CLRM to high doses of the chemotherapeutic drug (floxuridine [FUDR])
Avoidance of drug-related secondary adverse effects on healthy areas of the liver
Minimization of toxicity due to the high rate (95%) of FUDR extraction by the liver
Capability for combined use with other systemic agents to limit distant metastasis
Both randomized clinical trials and prospective analyses of HAIP chemotherapy applications revealed across-the-board improvements in overall survival, and recurrence-free survival, as well as conversion to resectability of unresectable CLRM. These findings were seen across all patients with colorectal liver metastases, including both high-risk and low-risk patients, such is the effectiveness of the treatment modality.
Notably, concomitant administration of systemic chemotherapy remains necessary to limit or prevent distant metastasis. "Administration of FUDR directly to the liver increases its bioavailability to the tumor by up to 400-fold relative to systemic therapy," explains Dr. Qadan. "However, preventing possible spread of cancer during treatment typically requires continued application of systemic agents."
Studies subsequently reported successful employment of HAIP therapy to treat other primary hepatic tumors, including most notably intrahepatic cholangiocarcinoma and hepatocellular carcinoma.
Dr. Qadan suggests that the demonstrated effectiveness of the method for CLRM provided patients with advanced-stage liver tumors a bridge between either no treatment options or transplantation, which is a very recent treatment option that is only available to an extremely small subset of qualified individuals. "The pump represents a potentially lifesaving option for the highest-risk patients, including those for whom systemic chemotherapy alone has been unsuccessful."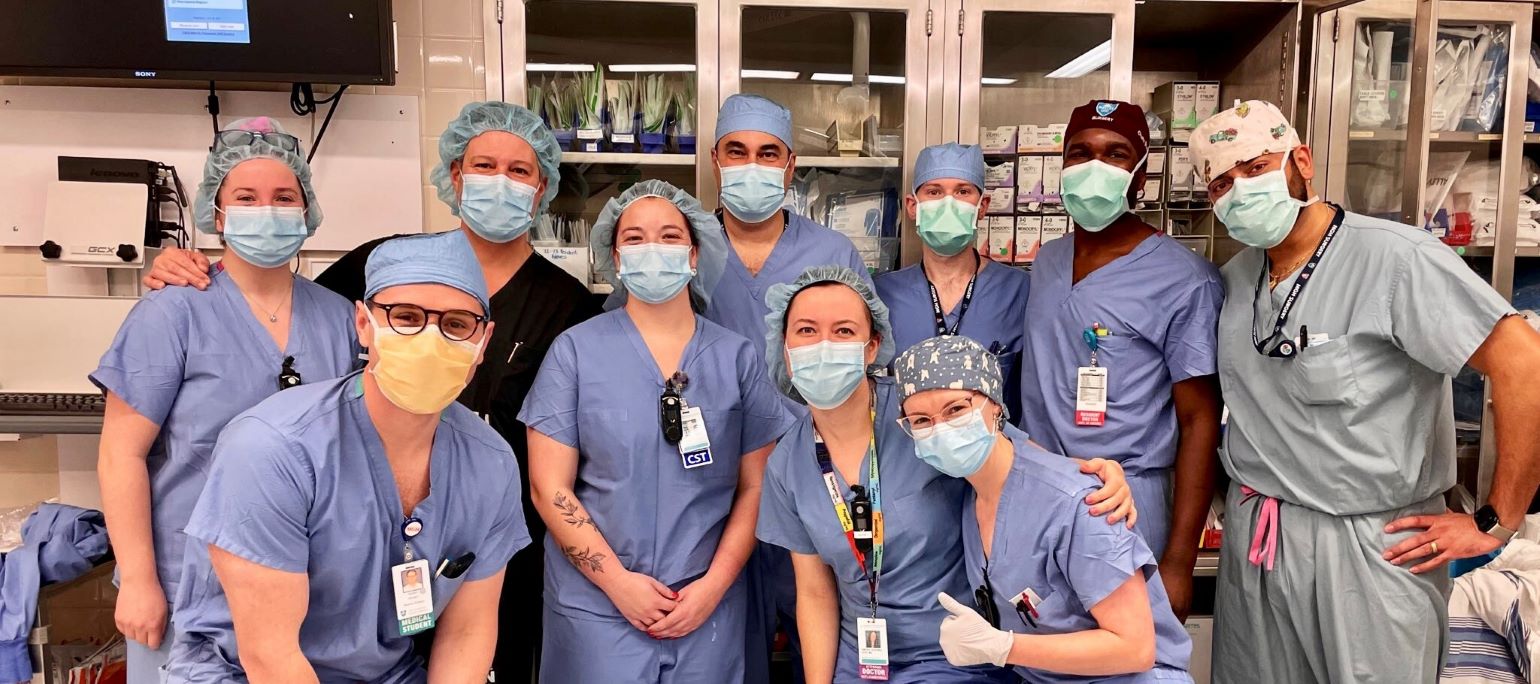 A Multidisciplinary Approach to Treating Liver Metastases
Although other centers have instituted similar programs, the complexities of HAIP have proved limiting. "Successful application requires a concerted effort by a sophisticated, resource-intensive, multidisciplinary team that is focused on optimizing treatment for a specific patient," explains Dr. Qadan. "Initially, the labor-intensive nature of the technique and the expertise required in multiple areas made clinical application cost-ineffective for many hospitals."
However, the documented successes led to significant increases in the number of institutions employing the technique, including Mass General. Dr. Qadan emphasized the support received by the hospital to establish such a program not only in the form of resources, facilities, funding, and philanthropy but also access to world-class researchers and physicians. He specifically noted the contributions of Elizabeth Paige Walsh, MD, in the medical oncology arena to establish protocols for chemotherapy delivery and patient-specific modifications to dosing regimens.
"As the only institution in New England offering this treatment, our goal is to ensure that the appropriate patients are being offered a safe and efficacious technique that we are confidant can provide the maximum clinical benefit," states Dr. Qadan, who stresses that all patients with liver metastases should be evaluated by their multidisciplinary team as potential treatment candidates.
"I am confident that this method will show further efficacy in multiple disease processes and in using novel therapeutic agents, and believe that we have the resources and talent in place to promote those discoveries."
Learn more about the Hepatic Artery Infusion Pump Program at Mass General
Refer a patient to the Mass General Cancer Center