Innovations in Treating Complex Aortic Arch Disease
In This Article
The continued improvement of branched endografts offers more options for endovascular repair of complex aortic arch disease
Massachusetts General Hospital is one of four sites in the United States currently enrolling patients into an early feasibility investigational device trial using a double-branched endograft to treat aortic arch pathology
Mass General is one of a few sites enrolling patients in a physician-sponsored investigational device trial for aortic arch aneurysms and dissections
The standard of care for complex aortic arch disease has long been open reconstruction using cardiopulmonary bypass and hypothermic circulatory arrest. Although generally safe, this approach is not suitable for all patients. With continued development and improvement of branched endografts, endovascular repair of complex aortic pathologies is now possible. These devices are customized to adapt to each patient's individual anatomy and offer a significantly less invasive technique to address these complex clinical conditions.
Specialists within Massachusetts General Hospital's multidisciplinary Thoracic Aortic Center are currently studying a novel stent graft that has two inner branches to perfuse the supra-aortic trunks. Matthew Eagleton, MD, chief of Vascular Surgery and co-director of the Fireman Vascular Center at Mass General, is leading a feasibility study of the new graft.
"Dr. Eagleton brings unique expertise to the field of thoracic aortic care and Mass General," says cardiac surgeon Arminder Jassar, MBBS. "He has tremendous experience with thoracic and thoracoabdominal branch stent devices, which will help elevate the level of care that we can offer our patients."
Clinical Trials Show Promise of Branched Endografts
Mass General and three other sites in the U.S. are actively enrolling patients into an early feasibility investigational trial for dual branch arch endograft. Based on early data, the U.S. Food and Drug Administration has approved the continued access and expansion of the study.
Worldwide use of these types of devices has been limited but is growing. Early data from a previous study with 38 patients using a similar type of branched graft for the aortic arch showed technical success in 32 patients. Thirty-day mortality was less than that with a conventional surgical approach, and there were no reports of aneurysm-related death in the 12 months following the procedure.
"With an endovascular approach, we can avoid open surgery and use of cardiopulmonary bypass," says Dr. Eagleton. "The patient benefits from the less invasive approach thanks to these technological advancements."
Treating Aortic Arch Disease with Less-Invasive Endovascular Repairs
To perform the procedure, surgeons gain access to the femoral arteries and make incisions over the carotid arteries on both sides to get wire access into the aorta. The aortic valve is then traversed and a guidewire is placed into the left ventricle. This allows the endograft device to be positioned in the ascending aorta.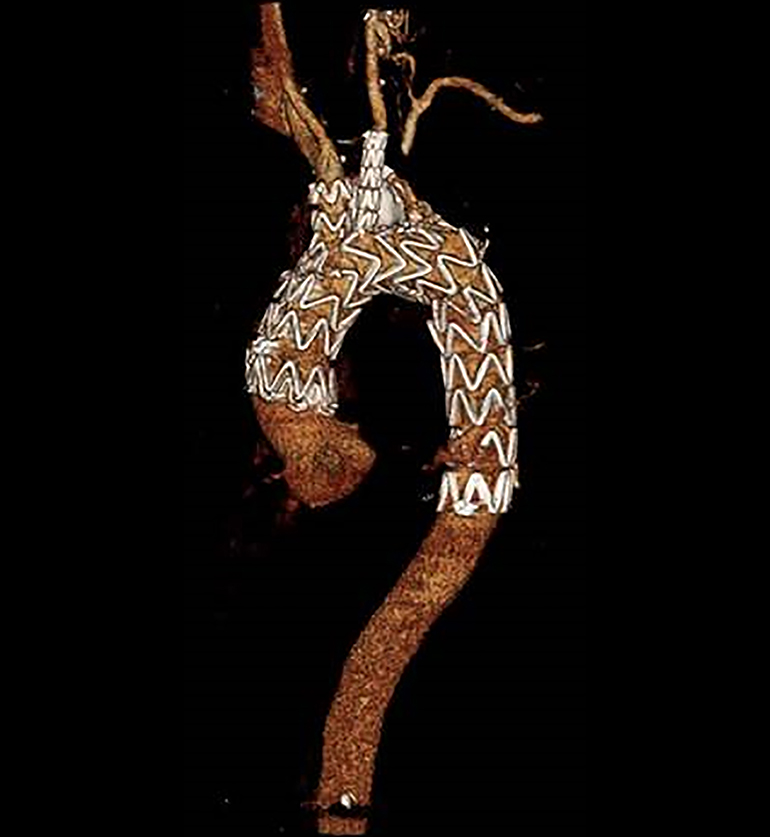 After overdrive pacing the heart to lower the blood pressure, surgeons deploy the main body of the device and allow it to expand in the ascending aorta and across the aortic arch. The team then works to place bridging stents from both carotid arteries into the branches that are built into the main device to restore blood flow into the innominate and the left carotid artery.
Because the procedure blocks off the origin to the left subclavian artery, a left carotid-subclavian artery bypass is often performed to preserve antegrade flow into the left subclavian artery.
"These are complicated procedures; it takes a couple of sets of hands," says Dr. Eagleton. "We're going back and forth, each of us performing different or multiple steps at the same time. The real benefit is the less invasive nature for the patient."
Multidisciplinary Collaboration to Care for Aortic Aneurysms and Aortic Dissections
The unique partnership between cardiac and vascular surgeons at the Thoracic Aortic Center makes it possible for people to receive an elevated level of care for complex aortic arch pathologies including:
Aortic dissection
Aortic aneurysm
Congenital anomalies of the aortic arch
Complications after previous aortic repair
Mass General's cardiac and vascular surgeons work collaboratively to treat a wide range of thoracic and abdominal aortic problems. Cardiac surgeons bring their experience of open surgical reconstruction of the aortic arch, while vascular surgeons bring their long history of performing complex endovascular procedures.
The Thoracic Aortic Center team meets monthly to discuss unique or challenging cases. They use this collaborative approach to identify the best treatment plan for patients, including innovative and exclusive clinical trials and procedures, like branched arch endografts.
Comprehensive Treatments for Aortic Problems
Not every patient referred with complex arch disease will be a candidate for the trial, especially in the early stages as the team learns the appropriate use of the endograft technology and who will most benefit from it.
The team offers comprehensive solutions for the treatment of aortic arch disease, including:
Unique alternative endovascular procedures such as parallel endografting
Hybrid procedures that use a combination of less invasive surgical debranching techniques and endovascular exclusion of the aneurysm
Staged operations such as the elephant trunk and frozen elephant trunk techniques to treat extensive thoracic and thoracoabdominal aortic pathology
"Even if a patient doesn't meet the eligibility requirements for our trial, we are certain that we will be able to offer effective treatments for any aortic problem presented," says Dr. Jassar.
About the Fireman Vascular Center
Refer a patient to the Fireman Vascular Center