Improving Reverse Total Shoulder Arthroplasty Performance with Highly Cross-linked Polyethylene Implants
In This Article
The expanding demographic of glenohumeral arthritis patients drives clinical urgency to improve implant durability
For reverse shoulder total arthroplasty (rSTA) patients, highly cross-linked polyethylene (HXLPE) shoulder implants may improve longevity and performance while reducing the need for revision surgeries
Newer materials help reduce the risk of two major mechanisms of implant pathology: particle-debris wear and oxidation
Glenohumeral arthritis is a painful and function-limiting shoulder problem for an expanding patient demographic. When conservative treatment measures fail and surgery is indicated, glenohumeral arthritis is increasingly treated by reverse total shoulder arthroplasty (rTSA) to create a more secure boney fixation site for the implant on the humeral head. This "reverses" the fixation site from the conventional total shoulder arthroplasty fixation site on the glenoid (Figure 1).
Subscribe to the latest updates from Orthopaedics Advances in Motion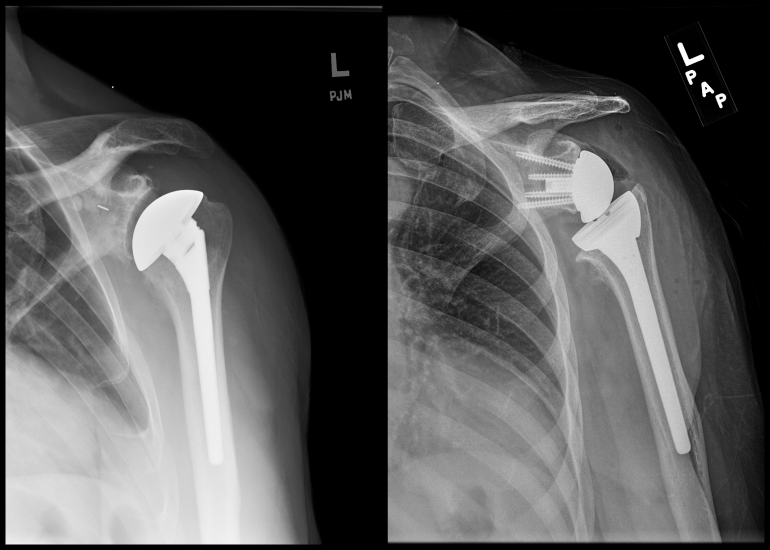 HXLPE to Improve Durability
To date, post-operative shoulder implant longevity data is encouraging for rTSA. The 10-year overall prosthetic survival rate using revision as the endpoint was 93% according to a 2017 Journal of Bone and Joint Surgery (JBJS) study. But a multidisciplinary team at Massachusetts General Hospital believes the rate can be improved.
Because the 10-year data showed implant deterioration when compared to mid-term data, it suggests changes over time from factors such as patient age, bone erosion and deltoid impairment that could be mitigated to extend implant functional durability.
"Our expectation is that the use of highly cross-linked polyethylene (HXLPE) shoulder implants in the setting of rTSA will reduce debris and improve oxidation-resistance," explains Orhun Muratoglu, PhD, director of Mass General's Harris Orthopaedics Laboratory. Dr. Muratoglu and his colleagues pioneered the development of HXLPE more than two decades ago.
Controlling Wear Pathologies in Shoulder Joint Implants
The optimal implant material reduces wear debris and the biological changes triggered by particle debris within the shoulder joint. It would also prevent the brittleness from oxidation that leads to fracturing. These sources of damage lead to joint implant failure due to loosening, infection, osteolysis, bone erosion and related pathologies. These failures, first recognized in hip and knee implants, are now documented in shoulder implants, though joint-specific differences have been noted as early as 1999 in a JBJS study.
In a 2016 Journal of Shoulder and Elbow Surgery study, researchers found that the performance of the ultra-high-molecular-weight polyethylene (UHMWPE) glenoid component in vivo is the primary limitation for the longevity of total shoulder replacement.
"The shoulder joint is highly unique, with its own complex joint kinematics, stress environment, biomechanical loading demands and circumstances," explains Harris Lab's Associate Director of Clinical Studies Charles Bragdon, PhD. "But in all joint implants, improving wear resistance and oxidation resistance are vital to extending the long-term performance of the implant."
Mass General Shoulder and Sports Medicine Surgeon Thomas Francis Holovacs, MD appreciates the potential of the Harris Lab contributions for improving shoulder arthritis patients' quality of life.
"Shoulder arthroplasty is one of the fastest-growing orthopedic replacement procedures performed in the U.S. today, and glenoid loosening remains the primary reason for implant failure," Dr. Holovacs explains. "Now, with improved implant materials such as HXLPE and vitamin E from the Harris Lab over the past several decades, we have a chance to offer patients with shoulder arthritis levels of pain-free high performance never before possible."
In Vitro Wear Simulator Data
To analyze performance of implant materials, a 2015 Journal of Shoulder and Elbow Surgery study of humeral liner wear rates in rTSA subjected both conventional and HXLPE implants to five million simulator testing cycles. The in vitro testing alternated between motions of abduction and adduction and glenohumeral flexion and extension.
Results show HXLPE humeral liners in rTSA significantly reduced wear, which in turn is likely to increase the clinical survival of the joint in vivo by controlling particle-induced osteolysis and loosening that lead to joint failure.
Next Steps: Infection-fighting, Drug-eluting Joint Implants
Refining HXLPE wear profiles in all joint types remains a priority for the Harris Lab team. New discoveries beckon as well. The team has had early success adding vitamin E to implant materials to resist oxidation and improve durability. As reported in Nature Biomedical Engineering in 2017, the team is now experimenting with drug-eluting implants to help fight the widespread problem of joint infections following arthroplasties.
"More than one million joint replacements are performed annually in the U.S., and 5-10% of those are revised within seven years—with infection as one of the most common reasons for revision," Dr. Muratoglu concludes. "We think an antibiotic-eluting joint implant is promising to address this problem."
Learn more about the Shoulder Service