Bob Carter, MD, PhD Reflects on His First Year as Chief of Neurosurgery
In This Article
Dr. Carter strives to conduct research that directly leads to improved quality of life for patients
During his prior residency and faculty years at Mass General, Dr. Carter conducted CAR T-cell therapy research, which is now an extremely promising new therapy for cancer
Dr. Carter's most novel research is around exosomes
After completing his residency at Massachusetts General Hospital in 1999, Bob Carter, MD, PhD, returned as Chief of Neurosurgery in February 2017. As he reflects on the first year in his new position, Dr. Carter discusses his motivation for coming back to Mass General, recent research on liquid biopsies and his long-term vision for the Neurosurgery department.
Subscribe to the latest updates from Neuroscience Advances in Motion
Q: What were some things you saw during your residency at Mass General that made you want to return to become the chief of Neurosurgery?
Carter: One of the things that attracted me to Mass General as a resident was that the staff are both collegial and highly competent. Everyone is focused on the quality of the outcomes and working in highly collaborative teams. That spoke to the professionalism of the group. The institution, historically, has also emphasized a depth of excellence as opposed to just being a big hospital.
I felt like this was an incredible community. The medical ecosystem of Boston is really unique with Harvard, MIT and all the great hospitals here.
Also, if you look at NIH spending, Massachusetts is at $381 per person. The next closest are New York and California, which are in the $200s. We have more dollars of biomedical research spending per citizen in Massachusetts than any other state in the nation. If you're a person who wants to be involved in biomedical advances, this is the place to be.
Q: How do you prioritize what paths you follow in your research?
Carter: I've been fortunate in that the things I've worked on have been advances for patients. I want to study things that can improve quality of life or help find a cure.
The research we do is very patient-focused, and that's one special aspect of Mass General. We're part of a large university, but we're not on-campus, so we have our own ecosystem. We obtain more than $900 million per year in research dollars, but what's most important is that we try to be patient-focused with our projects.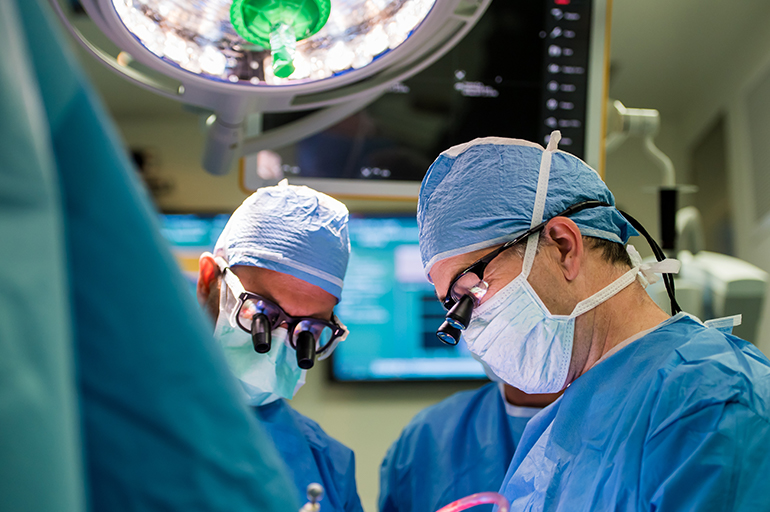 Q: Can you talk about some research projects you've started since coming back to Mass General?
Carter: I had some early projects during my residency and faculty years that were related to CAR T-cell therapies for cancer. It's interesting to me that the project I worked on as a resident more than 20 years ago is now the hottest new therapy. I enjoy seeing that evolution. It started as a concept, and we wrote some early papers on it, and now it's blossoming. It hasn't quite taken hold on brain tumors yet, but it's moving in that direction.
Our recent work on exosomes has also been interesting, along with liquid biopsy. Again, it's been fascinating to see that move from almost no articles in 2008 to now, 10 years later, there are thousands of articles on it, and it's getting discussed at conferences all over.
Q: What has been your most interesting or surprising finding in your recent research?
Carter: It's not necessarily surprising, but it's just understanding how complex cancer is. We think of strategies to beat it, but it has ways to thwart our best efforts. Coming to that realization that we need the best minds and the best approaches in combination to beat that disease is really important.
In terms of novelty, the fact that exosomes, these small packets released from cells, can carry RNA and protein and completely manipulate the microenvironment was something that wasn't taught to us at medical school. That was a discovery that came about here at Mass General that fully informs the way we look at the body and how disease works in the body.
Q: What made you decide to pursue neurosurgery?
Carter: I made the decision during my fourth year of medical school, and I could take you to the exact moment. I was watching the removal of a foramen magnum meningioma with the department chair at Johns Hopkins, and it was incredible. The neurosurgery resident couldn't scrub in, and I was the only one who could assist. It was a great experience.
I was also drawn to the challenge of taking on tough problems and realizing the challenges of neurological illness were so significant that it could be stimulating over the lifetime of my career.
We've made a lot of progress, but there's still a long way to go. I'm just as engaged now as I was when I was younger.
Learn more about the Neurosurgery Department
Learn more about research in the Neurosurgery Department