Advancing Pacemaker Lead Extraction and Revision
In This Article
Massachusetts General Hospital's Lead Management Program specializes in the complex removal and replacement of pacemakers and implantable cardioverter defibrillators (ICDs) following device failure, infection or the need for device upgrades
The Lead Management Program is the highest-volume center for lead extraction in the Northeast, with a multidisciplinary team skilled in these delicate procedures
The lead management team offers the latest technology in ICDs and pacemakers, including next-generation leadless pacemakers
Mass General investigators are involved in clinical research on lead extraction to optimize patient outcomes
A multidisciplinary team of cardiac specialists at Massachusetts General Hospital's Lead Management Program are making clinical and research advances to optimize patient outcomes in patients with cardiac implantable electronic devices that must be removed or replaced.
Subscribe to the latest updates from Cardiovascular Advances in Motion
Traditional pacemakers and implantable cardioverter defibrillators (ICDs) contain leads that are threaded through the veins to connect to the heart. The average lifespan of these leads is 10-15 years, at which point the device must be replaced. A lead extraction may also be necessary if the device is malfunctioning, the patient requires a different type of device or there is an infection involving the heart or the device.
"Lead extraction is a complex procedure that requires a multidisciplinary team. These are often advanced cardiac patients with heart failure, and they can be very sick," says Theofanie Mela, MD, a cardiac electrophysiologist at Mass General's Corrigan Minehan Heart Center and director of the Lead Management Program. "Our track record is one of safety and excellent patient care, before, during and after the procedure."
Multidisciplinary Approach to Lead Extraction for Cardiac Implantable Electronic Devices
The removal of implantable cardiac devices can be a complex procedure. Leads that have been in the body for more than a year become encased in scar tissue and can be challenging to remove. To safely extract the devices, Mass General's multidisciplinary lead management team performs the procedures in an operating room while the patient is under general anesthesia. This team includes a:
Cardiac electrophysiologist to extract existing leads and implant new leads
Cardiothoracic surgeon standing by in case open-chest intervention is required
The lead management team collaborates with additional specialists as needed. For example, interventional radiologists may be involved to dilate stenotic areas that have developed around the lead or dilate and place stents in the veins before the electrophysiologist implants a new lead. Interventional cardiologists may also assist with patients who need evacuation of a large vegetation (infectious material) or have congenital heart disease and need a simultaneous intervention.
The team's expertise in implantable cardiac technology also provides patients with a range of replacement device options, allowing for more individualized care. When a patient requires an upgrade to a new device, they undergo thorough testing and examination to determine the most suitable option.
"We offer patients, according to their needs, the most advanced technologies in terms of the new devices they will be receiving," Dr. Mela says.
From Pacemaker to Cardiac Resynchronization Therapy: A Case Study
A recent case at Mass General illustrates the complexity of pacemaker lead extraction and revision—and the importance of physician experience to perform the procedure safely.
A male patient in his mid-60s was first referred to Dr. Mela by his vascular cardiologist. The patient, who had received a pacemaker for a complete heart block several years earlier, had developed arm swelling at the location of the leads and symptoms of superior vena cava (SVC) syndrome.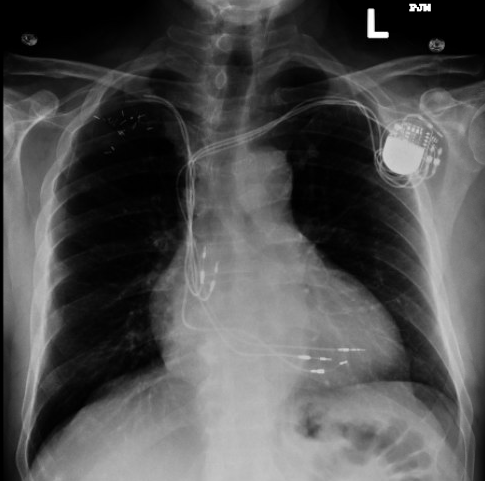 In the operating room, Dr. Mela and her colleagues carefully extracted the leads from the surrounding scar tissue, placed stents in the stenotic areas of the patient's vasculature and reinserted a new pacemaker. The procedure was effective, but several years later, the patient developed cardiomyopathy and a severe reduction in systolic function.
"The patient was 100% pacemaker dependent, and a workup suggested that continuous pacing from his pacemaker was causing the cardiomyopathy," Dr. Mela says. "In the meantime, he had developed additional stenosis of his SVC because of the presence of the pacemaker wires."
To address those concerns, Dr. Mela and her team extracted the patient's existing leads, stented his SVC, reimplanted new leads and upgraded his simple pacemaker to a cardiac resynchronization therapy (CRT) device. CRT defibrillators function like traditional devices while also delivering electrical impulses to the right and left ventricles to help the heart pump more efficiently. The device also acts as a defibrillator, delivering shocks to correct dangerous arrhythmias.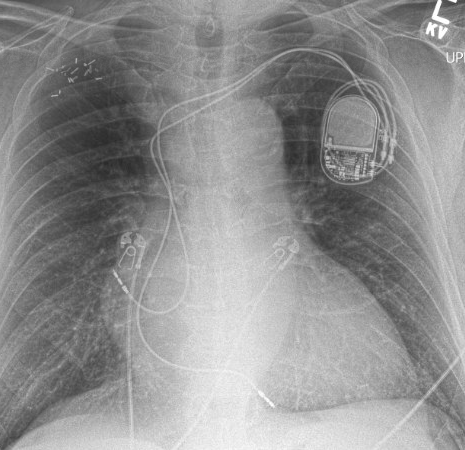 The procedure to upgrade the device was complex but effective. "In a matter of a few months, the patient had regained full function of his left ventricle because he was now being paced in a more efficient way by the CRT system," Dr. Mela says.
Advancing Care Through Lead Extraction Research
As regional frontrunners in lead extraction, Mass General is also involved in clinical research to optimize patient outcomes. In one recent study, Dr. Mela and her colleagues compared two types of tools used for transvenous lead extraction:
GlideLight laser sheath: This tool uses a laser ring to slice through scar tissue surrounding the lead
TightRail rotating dilator sheath: This tool, also known as a mechanical sheath, contains a revolving head to free the lead from the scar tissue
Research by Dr. Mela's team, published in PACE: Pacing and Clinical Electrophysiology, found that the two modalities had similar safety profiles and resulted in similar patient outcomes. "Every patient is unique, and this data supports physicians in deciding the appropriate tool for each case, knowing that both are safe and effective," she says.
The team is also investigating the effect of lead extraction on tricuspid regurgitation. "The leads that end in the right ventricle have to cross the tricuspid valve, and there are a lot of unknowns about how those leads may affect the function of the valve," Dr. Mela explains. A current study aims to answer some of those questions.
Mass General is also involved in trials to evaluate new implantable devices, including leadless pacemakers.
"Leadless pacemakers are the future of pacing. These devices became clinically available only in the last five or six years and they continue to evolve," Dr. Mela says.
The Lead Management Program Welcomes Referrals
As the highest-volume center for lead extraction in the Northeast, Mass General's Lead Management Program welcomes referrals. The program offers the latest technologies and highly skilled physicians who are comfortable managing complex patients. "We encourage physicians to refer patients early for assessment, whether they have a suspected infection, a device with malfunctioning leads or may need to upgrade to a different type of device," Dr. Mela says.
"It's well recognized that to maintain a good track record of successful procedures and low complication rates, you need to maintain a high volume," she says. "We perform a high volume of lead extraction procedures, and have the expertise and foundation to manage any lead-related problems and challenges associated with implantable cardiac devices."
Learn more about the Telemachus & Irene Demoulas Family Foundation Center for Cardiac Arrhythmias
Refer a patient to the Corrigan Minehan Heart Center