Cardioprotection for Cancer Patients and Survivors
In This Article
Survival with cancer has dramatically improved. At present, there are roughly 15.5 million people in the United States who are cancer survivors
Patients with cancer or a history of cancer are at a markedly increased risk for developing cardiovascular disease
Cardioprotection is needed to improve short- and long-term cardiovascular outcomes in patients with cancer while minimizing treatment-related cardiac and vascular complications
Survival with cancer has dramatically improved. At present, there are roughly 15.5 million people in the United States who are cancer survivors. As a result, there has been a renewed focus on the long-term morbidity and mortality associated with cancer and cancer therapies. Specifically, patients with cancer or a history of cancer are at a markedly increased risk for developing cardiovascular disease. "The rates of cardiovascular disease, including death, myocardial infarction, stroke and heart failure, are five- to six-fold higher in patients with a prior history of cancer therapies," says Tomas G. Neilan, MD, MPH, director of the Cardio-Oncology Program at Massachusetts General Hospital, an initiative that began in 2011. The program focuses on improving short- and long-term cardiovascular outcomes in patients with cancer while minimizing treatment-related cardiac and vascular complications.
Subscribe to the latest updates from Cardiovascular Advances in Motion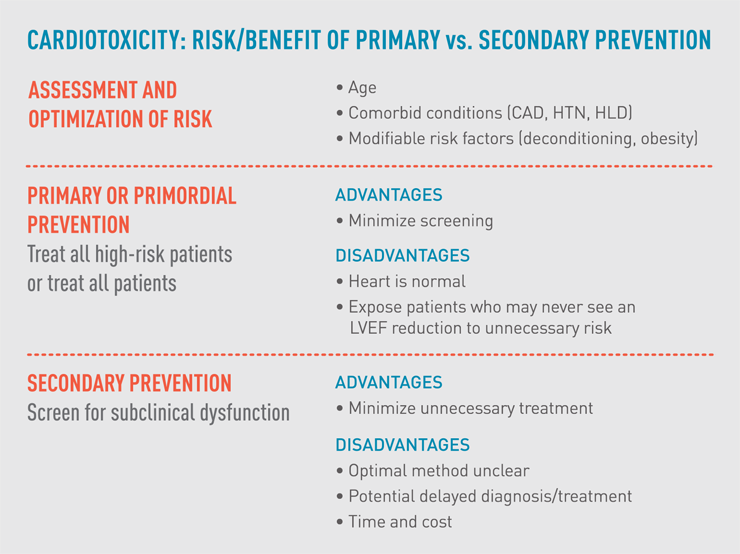 Cardiotoxicity includes any cardiac injury resulting from toxin exposure and is a lot more common than is recognized. "But certain protective measures can be implemented, especially for those high-risk patients receiving the most cardiotoxic therapies," says Dr. Neilan.
Choosing When to Initiate Cardioprotection Measures
Clinicians have considered whether interventions can help reduce cardiotoxicity. While clinical trial data are limited and most are from single center studies, the data that are available suggest the benefits of lifestyle changes, such as diet and exercise, as well as treatment with pharmacologic drugs, including ACE inhibitors, ARB's, beta blockers and statins. In July 2016, Dr. Neilan and colleagues published an online analysis for the American College of Cardiology summarizing the evidence supporting these cardioprotective treatments.
In practice, however, deciding which patients should receive a given cardioprotective measure and when treatment should begin can be confusing. Patients should first be assessed based on their age, co-morbid cardiovascular conditions, and planned dose and type of cardiotoxic drugs. Then they can be treated using one of two approaches, each of which has its advantages and disadvantages. The primary prevention approach involves treating all patients and the secondary prevention approach involves "aggressive detection of cardiovascular disease by thorough screening for sub or pre-clinical dysfunction," says Dr. Neilan.
Primary treatment with cardioprotective therapy minimizes screening, but it exposes lower-risk patients to potentially unnecessary drug side effects and can burden them with added costs. Secondary prevention, based on assessments of imaging studies, biomarkers and other testing, minimizes treatment but can lead to potential delays as the battery of diagnostics takes place. Both treatments can limit cardiotoxicity (fig. 1).
Physicians within the Mass General Cardio-Oncology Program have used both approaches depending on some patient related factors. "Whatever approach is used, the best management requires a multidisciplinary approach with close collaboration between the treating oncologist, internist and cardiologist," says Dr. Neilan.
The Mass General Cardio-Oncology Program provides access to a thorough, patient-focused prevention approach through its dedicated cardio-oncology clinic located within the Mass General Cancer Center. Patients can be assessed for cardiovascular health within the program prior to the start of cancer care, as well as during and after treatment.
Refer a patient to the Corrigan Minehan Heart Center
Learn more about Mass General's Cardio-Oncology Program