Paradigm Shift in Mitral Valve Repair Management and Treatment
In This Article
Traditionally, patients with chronic severe mitral valve regurgitation are followed without intervention until the onset of symptoms, which can lead to atrial fibrillation
Guidelines recommend mitral valve repair for asymptomatic patients before onset of symptoms
Advances in minimally invasive procedures allow comparable outcomes with faster recovery
A new clinical paradigm shift is changing the management of asymptomatic patients with severe mitral valve regurgitation (MR), the most common form of valvular heart disease, affecting approximately 2% of the U.S. population. Traditionally, asymptomatic patients with chronic severe MR are followed without intervention, and treatment is considered only at the onset of symptoms. But in 2014, the American College of Cardiology (ACC) and the American Heart Association (AHA) issued new clinical practice guidelines that urged a more aggressive approach when repair is possible rather than waiting for symptoms to develop (Fig. 1).
Subscribe to the latest updates from Cardiovascular Advances in Motion
"We see many patients referred who have been followed with severe MR, waiting to become symptomatic," says Thoralf M. Sundt, MD, Chief of the Division of Cardiac Surgery, Co-Director of the Massachusetts General Hospital Corrigan Minehan Heart Center and President of the American Association for Thoracic Surgery, who co-wrote the new guidelines. "The main problem with the traditional approach is that severe MR may lead to other complications—even if asymptomatic— such as atrial fibrillation that in turn increases the risk of stroke."
Minimally Invasive Repair
Advances in repair techniques, including minimally invasive technology, have encouraged a push for earlier interventions. "Not only can we repair the valve over 95% of the time, but now we can increasingly do it minimally invasively with extremely low morbidity," says Serguei Melnitchouk, MD, MPH, Co-Director of the Mass General Heart Valve Program, whose surgeons have been conducting minimally invasive mitral valve surgery (MIMVS) for over three years. In 2015, the surgical team performed approximately 100 mitral valve repairs—with close to a quarter of them completed minimally invasively. Overall, more than 90% of patients with degenerative mitral valve disease had undergone a successful mitral valve repair. Some patients are not good candidates for MIMVS, such as those with peripheral vascular disease or an enlarged ascending aorta. Less than 1% to 2% of the procedures that begin minimally invasively need to be converted to a traditional sternotomy approach because of unexpected difficulties in exposure.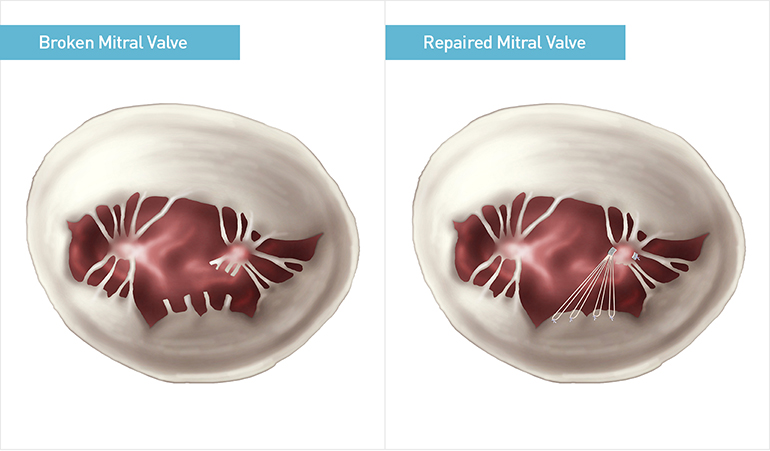 Comparable Outcomes, Faster Recovery
Minimally invasive procedures also allow for faster recovery times. MIMVS recovery is 10 to 14 days post-treatment on average, compared with four to eight weeks for traditional sternotomy. Dr. Melnitchouk and colleagues compared the outcomes of many studies of MIMVS and traditional sternotomy cases. Their findings, published in November 2015 in Current Treatment Options in Cardiovascular Medicine, show that 30-day all-cause mortality and stroke rates were similar for both groups. However, MIMVS patients required less blood transfusion and had a lower rate of new postoperative atrial fibrillation.
"The guidelines state that if you can repair the valve and the repair is durable—and especially if the repair can be done minimally invasively—there is less advantage to waiting," says Dr. Sundt. Waiting was considered the wisest course when treatment required a prosthetic valve, which led to associated issues like anticoagulation, with its risk of hemorrhagic or thromboembolic complications. "The game changer here is the ability to repair the valve and avoid the problems of non-native tissue," he says.
For more information, call 866-644-8910
Refer a patient to the Heart Center