BPH Supplements Have Little Support for Efficacy and Safety
Key findings
Fewer than one-fifth of active ingredients in the supplements used to treat benign prostatic hypertrophy (BPH) had supporting evidence from human studies
Two-thirds of the ingredients used had no evidence or conflicting evidence
Fewer than one-sixth of products contained an ingredient that has been studied in a randomized, controlled trial in BPH
Numerous herbal preparations are available that claim to treat benign prostatic hyperplasia (BPH) and lower urinary tract symptoms. Shahin Tabatabaei, MD, director of the Prostate Health Program at Massachusetts General Hospital, and colleagues recently conducted the first known study of all individual ingredients in these supplements, and they conclude that there is scant evidence of safety and efficacy.
Subscribe to the latest updates from Urology Advances in Motion
In Urology the researchers explain 41 products found on Amazon advertised as herbal treatments of prostate enlargement had specific claims that they relieve lower urinary tract symptoms. Close to half of the supplements, 46.3%, carried a money-back guarantee.
The researchers eliminated 14 products whose advertising listed no ingredients. For the remaining products, they used Google Scholar to search for scientific evidence without regard to language or publication status.
Across the 27 remaining supplements, 58 unique active ingredients were listed. Of these, the researchers found, only 10 had supporting evidence from human studies in BPH. For nine ingredients the researchers found only animal studies, while for one ingredient they identified only a laboratory study. For 38 ingredients, 66%, there was no evidence or conflicting evidence.
Altogether, 23 products (85%) contained at least one ingredient that is scientifically proven based on human studies, six (14%) products had at least one ingredient that has been studied in a randomized, controlled trial and 17 (63%) of the products had an ingredient with a systematic review to support its use. On the other hand, 20 products (74%) had an ingredient with conflicting evidence based on systematic reviews.
A serious problem in assessing efficacy and safety was that most of the supplements were a blend of many ingredients (mean number, 8.36) (Figure 1). Of the supplements that contained ingredients supported by scientific studies, 100% had other ingredients with no, conflicting or refuting evidence. No product contained only scientifically-proven ingredients.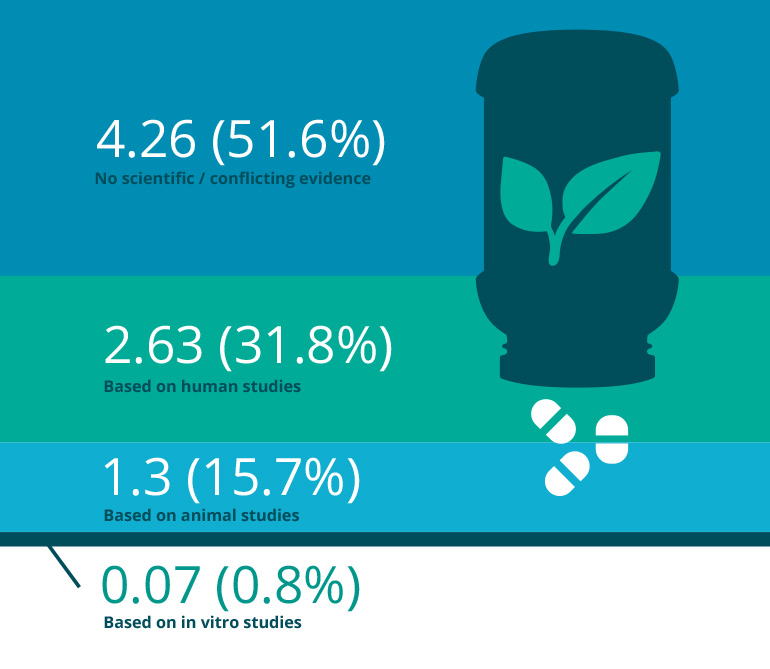 The researchers remind physicians that:
Herbal supplements are not evaluated by the Food and Drug Administration, so manufacturers are not required to fund rigorous trials to prove their safety and efficacy
The potency of herbal supplements varies across batches, depending on the source and geographical location of the herbal plant, time of harvest and the extraction method used
Some additives—or ingredients—in the supplements may not be declared on the label
The authors conclude that physicians should warn patients about the lack of adequate evidence to support the safety and efficacy of most supplements marketed for the treatment of BPH.
view original journal article Subscription may be required
Learn about the Prostate Health Center