Fighting HPV Head and Neck Cancer One Blood Sample At a Time
In This Article
The Faden Lab at Massachusetts Eye and Ear has developed a liquid biopsy that is over 98% accurate for diagnosing HPV-associated head and neck cancer
When compared with standard tissue biopsy, a non-invasive approach combining the liquid biopsy with routine imaging and physical exam findings was more accurate
The team also used modeling to demonstrate that a liquid-biopsy-based approach may cost 36% less than standard methods and could arrive at a diagnosis 26 days earlier
In a second prospective study, the team became the first to demonstrate how this HPV liquid biopsy could also be used to personalize care in patients treated with surgery
This article was written by Mike Kotsopoulos and republished from the Spring 2022 Harvard Otolaryngology Magazine.
Subscribe to the latest updates from Otolaryngology Advances in Motion
Head and neck cancer is the sixth most common cancer worldwide. In the United States, human papillomavirus (HPV), a sexually transmitted infection, has fueled the dramatic rise of one head and neck cancer in particular: oropharyngeal squamous cell carcinoma.
HPV-associated oropharyngeal squamous cell carcinoma, which is found in the back of the throat, has surpassed cervical cancer as the most common HPV-associated malignancy in the United States. Approximately 75% of oropharyngeal squamous cell carcinoma cases are HPV-associated. The disease afflicts younger head and neck cancer patients more than head and neck cancers caused by smoking.
Thankfully, if caught in its early stages, HPV-associated oropharyngeal squamous cell carcinoma has a high survival rate. Physicians can use robotic technology, chemotherapy, and radiation to treat the disease. However, these treatments can cause severe side effects such as difficulty swallowing, muscle fibrosis of the neck, dry mouth, chronic pain, and cranial nerve problems, especially when multiple treatments are combined together. The accumulation of these side effects can impact a patient's quality of life years later.
"It's no longer enough to ensure a patient is cancer-free," said Jeremy D. Richmon, MD, associate professor of Otolaryngology–Head and Neck Surgery at Harvard Medical School and director of Robotic Surgery at Mass Eye and Ear. "These patients should expect to live comfortably for another 20-to-30 years after their treatment. It's up to us to erase the specter of cancer from patients' rearview mirrors by tailoring their treatment and optimizing their outcomes."
In recent years, researchers have developed non-invasive "liquid biopsies" that could serve as a tool for detecting cancers earlier and more accurately than traditional diagnostic approaches. In a pair of studies published in Clinical Cancer Research and Cancer, a team of researchers at Mass Eye and Ear and Massachusetts General Hospital led by Daniel L. Faden, MD, FACS, assistant professor of Otolaryngology–Head and Neck Surgery at Harvard Medical School and investigator in the Mike Toth Head and Neck Cancer Center at Mass Eye and Ear, investigated how its own HPV-specific liquid biopsy compared to traditional approaches.
The liquid biopsy proved more accurate, less expensive, and potentially faster, and the team became the first to demonstrate how a liquid biopsy could one day help personalize post-operative care for HPV-associated head and neck cancer patients.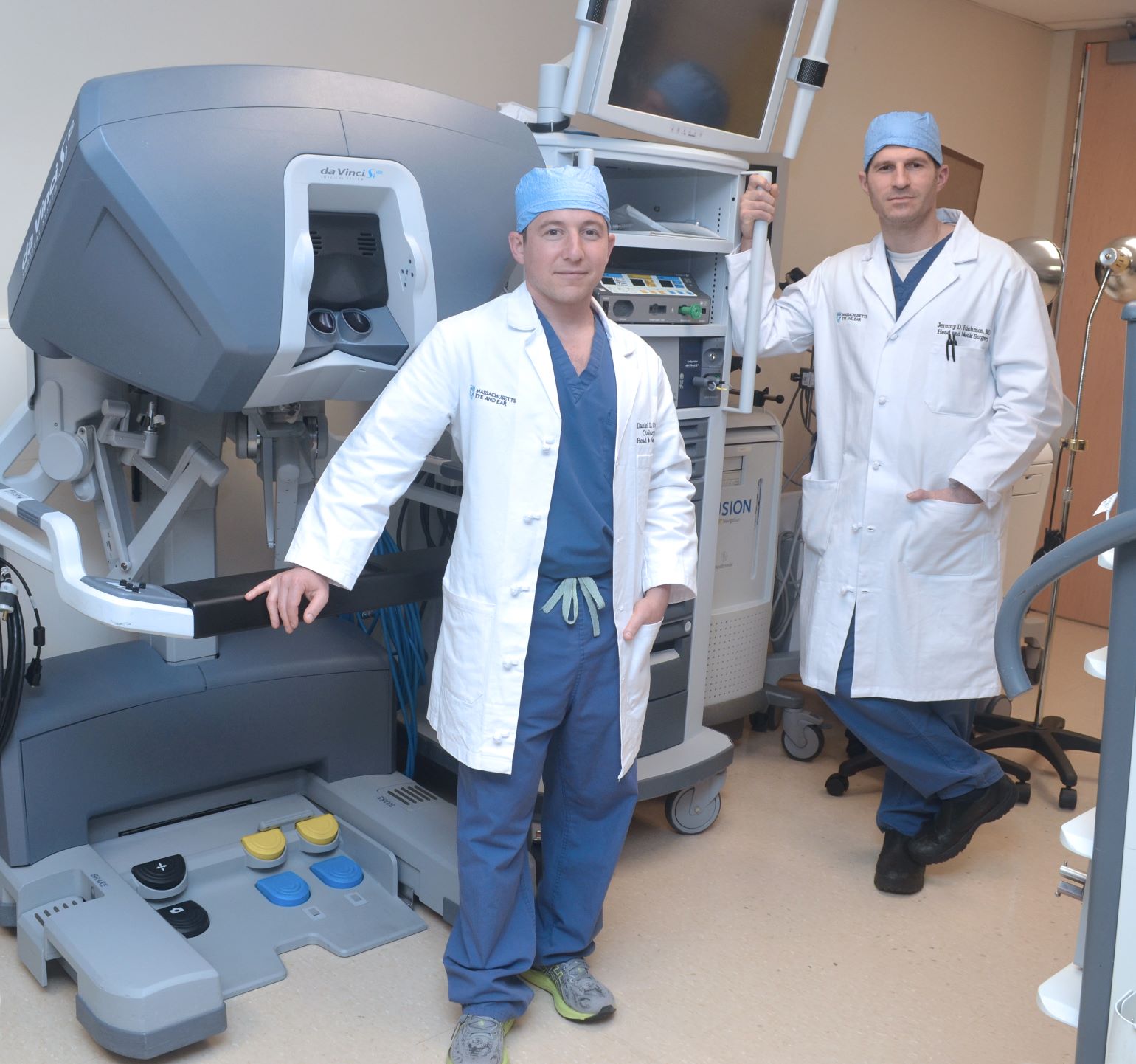 A Non-invasive, Liquid Biopsy for HPV-associated Head and Neck Cancer
According to Dr. Faden, current diagnostic techniques for HPV-associated head and neck cancers have significant limitations. Tissue biopsies are invasive and may require repeat testing before a final diagnosis can be made. Cross-sectional imaging, such as CT scans, and physical exams are only sensitive when a cancer has grown to a size visible to the naked eye.
"By the time a tumor appears on a CT scan, that tumor is already millions, or billions, of cells in size," Dr. Faden said. "We want to detect cancers much earlier, at the cellular level."
Researchers have recently evaluated cell-free DNA as a novel way of tracking and monitoring cancers. Cell-free DNA are fragments of DNA released into the bloodstream from all different types of cells in the body.
This includes fragments of DNA from HPV-associated cancers, which are referred to as circulating-tumor HPV DNA (ctHPVDNA). In theory, ctHPVDNA should only appear in the bloodstream if a patient has HPV-associated cancer, providing an opportunity to detect the disease. Unfortunately, these strands become much harder to distinguish in the background of millions of other cell-free DNA fragments.
"It's a needle-in-a-haystack kind of problem," said Dr. Faden. "But a liquid biopsy that could identify ctHPVDNA from millions of other competing cell-free DNA fragments would allow us to pick needles out of the haystack much quicker and more accurately compared to existing approaches."
In a study published in Clinical Cancer Research, a team led by Dr. Faden conducted a prospective trial where they applied a custom liquid biopsy to 140 patients at Mass Eye and Ear and Mass General. The liquid biopsy was more than 98% accurate for diagnosing HPV-associated head and neck cancer. The team also used modeling to demonstrate that a liquid-biopsy-based approach may cost 38% less than standard methods and could arrive at a diagnosis 26 days earlier, on average. Then, after combining the liquid biopsy results with standard cross-sectional imaging and physical exam findings, the team demonstrated that a fully non-invasive diagnostic approach still had high diagnostic accuracy compared to standard tissue-based approaches.
Personalizing Treatment for Patients Treated With Surgery
Transoral robotic surgery is a common treatment for early-stage HPV-associated oropharyngeal squamous cell carcinoma. During treatment, a surgeon uses a surgical robot to remove cancer from the back of the throat, along with any affected lymph nodes. After surgery, some patients may require additional treatments, such as radiation therapy or chemoradio-therapy, to treat the remaining cancer cells.
No perfect method exists for determining how many cancer cells remain after surgery, especially at the microscopic level. Physicians have attempted to tailor treatment by sorting patients into low, intermediate, and high-risk categories for residual disease in the postoperative period. Patients categorized as low risk do not require additional treatment, whereas those labeled as intermediate or high risk would require subsequent radiation or chemotherapy. However, physicians often categorize patients according to imperfect pathology reports, making overtreatment or undertreatment more likely to occur.
"Our goal is to provide patients with as little treatment as possible to eradicate their cancer, but we also don't want to undertreat a patient," Dr. Richmon said. "The margin of error is razor thin."
Without a foolproof way of identifying which patients need more or less treatment after surgery, a giant hurdle stands in the way of personalizing care. To clear this hurdle, Dr. Faden's team tested if its liquid biopsy could reliably detect the level of ctHPVDNA hours and days after transoral robotic surgery. They believed these levels of ctHPVDNA could predict which patients need to continue post-operative treatments, like radiation therapy, and which do not.
In a prospective study at Mass Eye and Ear, Dr. Faden's team used its HPV liquid biopsy to measure levels of ctHPVDNA in 33 patients undergoing treatment for HPV-associated oropharyngeal squamous cell carcinoma. During the study, the team examined what happens to ctHPVDNA levels in different patients immediately after they undergo surgery. According to results published in Cancer, the team found a correlation between ctHPVDNA blood levels and previously discovered risk factors of residual disease in patients one day after surgery. A sudden drop in ctHPVDNA levels was observed in patients lacking residual disease risk factors, and levels remained elevated in patients with higher risk factors.
"This is the first time an HPV liquid biopsy has been applied to a cohort of patients being treated with surgery," Dr. Faden said. "Our work demonstrates a proof of principle that physicians could reliably use ctHPVDNA as a personalized biomarker for selecting adjuvant treatments in the future."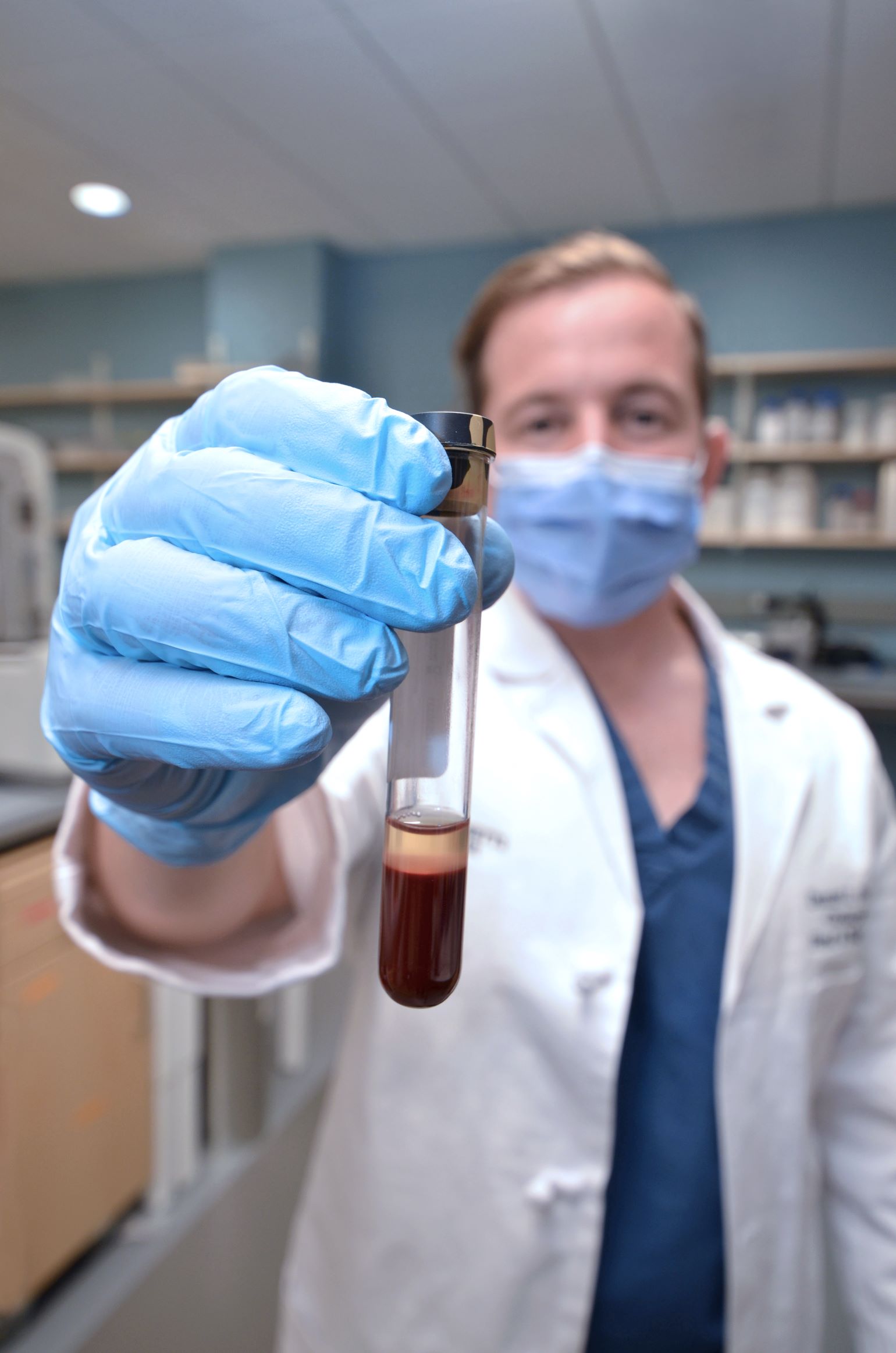 Moving From Bench to Bedside
By 2030, experts predict HPV will account for over 30,000 new HPV-associated oropharyngeal squamous cell carcinoma cases per year in the United States. To combat the wave of cases on the horizon, Drs. Faden and Richmon have proposed testing whether the new liquid biopsy can successfully guide treatment in a prospective interventional trial.
According to Dr. Faden, treatments during the trial would be personalized in real-time, and the HPV liquid biopsy would serve as a tool to determine treatment intensity. For example, if a patient's ctHPVDNA level is high after surgery, the patient may receive more radiation. Patients with more favorable ctHPVDNA results would receive lower doses of radiation, or none at all.
The team has also worked on applying ctHPVDNA as a screening tool for detecting cancers before they become symptomatic in the population. Dr. Faden believes physicians could one day use blood tests to screen individuals for many cancer types at once. That would mean no more colonoscopies or mammograms.
"Liquid biopsies are forever changing the face of cancer diagnosis and monitoring," he said. "For HPV-associated head and neck cancer, if we can better personalize treatments for patients, and thereby minimize long-term side effects and increase effectiveness, we have the chance to dramatically improve our patients' lives."
Learn more about the Department of Otolaryngology–Head and Neck Surgery at Mass Eye and Ear
Refer a patient to Mass Eye and Ear/Mass General Brigham