Sacituzumab Govitecan-hziy Effective for Heavily Pretreated Metastatic Triple-Negative Breast Cancer
Key findings
This multicenter, open-label, single-arm phase 1/2 trial investigated the safety and efficacy of sacituzumab govitecan-hziy in a heavily pretreated population of patients with metastatic triple-negative breast cancer
The most common grade ≥3 adverse events were neutropenia, anemia and diarrhea
Only 3% of patients discontinued treatment because of adverse events, and there were no cardiac adverse events or grade ≥3 drug-related neuropathy
33% of patients responded, including complete response in 2.8%; the median duration of response was 7.7 months, median progression-free survival was 5.5 months and median overall survival was 13.0 months
Subscribe to the latest updates from Cancer Center Advances in Motion
In April 2020, the FDA granted accelerated approval to sacituzumab govitecan-hziy (Trodelvy) for adults with metastatic triple-negative breast cancer who have received at least two prior therapies.
The approval was based on the results of IMMU-132-01, a multicenter, open-label, phase 1/2 trial conducted by Aditya Bardia, MD, MPH, of the Massachusetts General Hospital Cancer Center, and colleagues and reported in The New England Journal of Medicine.
Rationale
Triple negative breast cancer (TNBC) represents an aggressive subtype of breast cancer associated with guarded prognosis. For patients with pre-treated metastatic TNBC, standard chemotherapy is associated with low response rate (5%-10%) and poor progression-free survival (2-3 months), highlighting need for better therapies. Sacituzumab govitecan-hziy is an antibody drug conjugate (ADC) that combines SN-38, an active metabolite of irinotecan, with an antibody against Trop-2, an antigen overexpressed in majority of triple negative breast cancer. The ADC delivers SN-38 selectively to tumor cells and the tumor microenvironment at concentrations higher than with standard chemotherapy, but toxic effects should be minimized in normal tissues that don't express Trop-2.
Study Methods
The single-arm phase 1/2 trial enrolled 108 patients with previously treated metastatic triple-negative breast cancer between June 2013 and February 2017. The data cutoff was December 1, 2017 (median follow-up 9.7 months). Sacituzumab govitecan-hziy 10 kg/m2 was infused on days 1 and 8 of 21-day cycles, now the recommended dosage.
The median number of previous anticancer regimens was three (range, 2–10).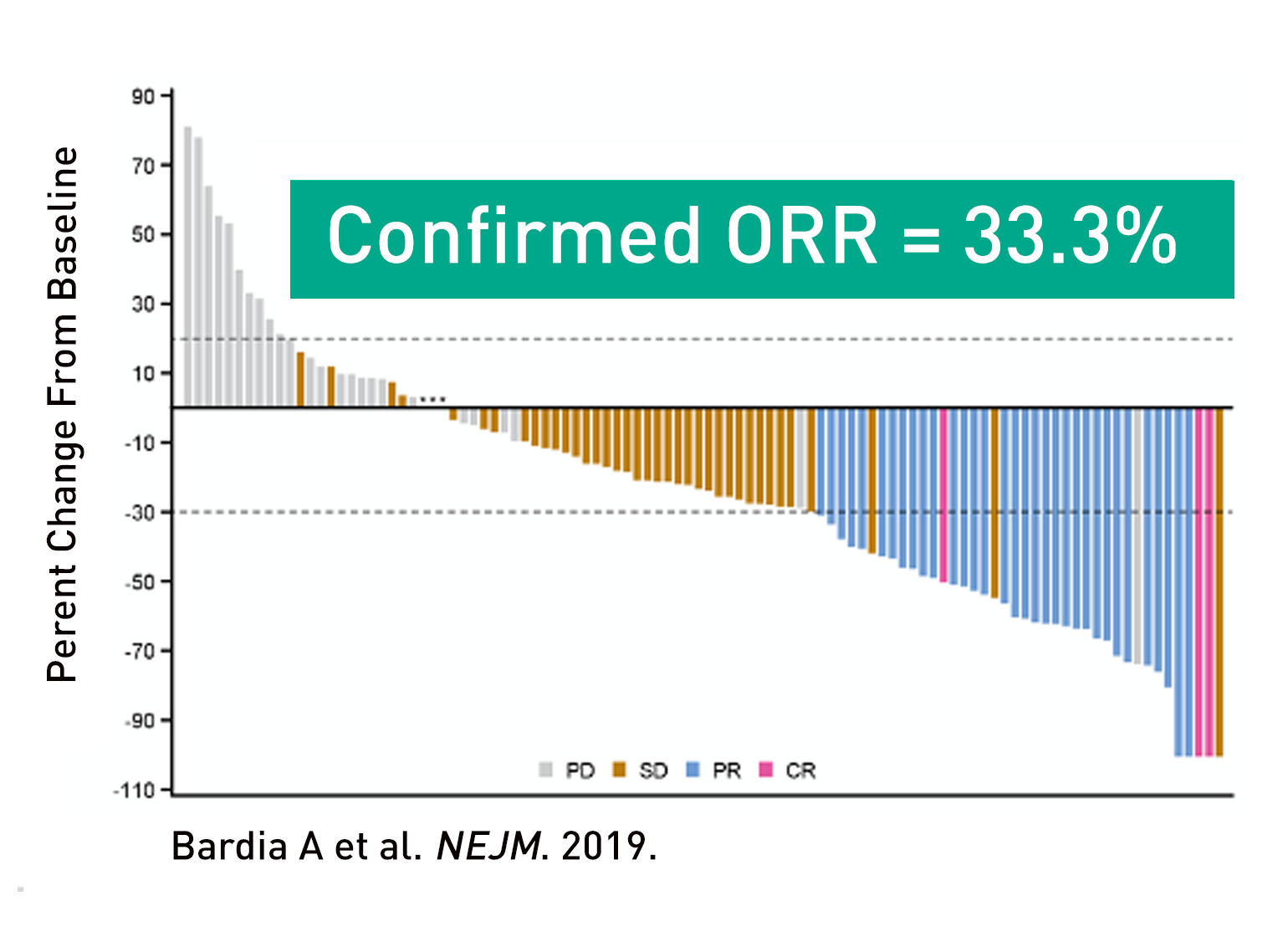 Safety
The most common grade ≥3 adverse events (AEs) were neutropenia, anemia and diarrhea. No cardiac AEs or grade ≥3 drug-related neuropathy were noted.
Serious AEs were reported for 32% of patients, most commonly febrile neutropenia, vomiting, nausea, diarrhea and dyspnea. None of four deaths during treatment were considered treatment-related.
44% of patients had treatment interrupted because of AEs, most commonly neutropenia, and 3% discontinued treatment because of AEs.
Efficacy
Objective response rate (complete or partial response)—33% of patients
Clinical benefit rate (objective response or stable disease for at least six months)—45%
Median duration of response—7.7 months
Median progression-free survival—5.5 months
Median overall survival—13.0 months
view original journal article Subscription may be required
Learn more about the Mass General Cancer Center
Refer a patient to the Mass General Cancer Center