Coronary Artery Disease - Reporting & Data System (CAD-RADS)
In This Case Study
55-year-old male presented to urgent care with left-sided chest pain; he had previously been well, with past medical history of hypertension and hyperlipidemia
CTA result was classified as CAD-RADS 4-V
New multi-societal Coronary Artery Disease – Reporting and Data System (CAD-RADS) facilitates uniform standardization of reporting and allows patients to be matched to suggested management pathways
Clinical History
A 55-year-old male presented for urgent care at Massachusetts General Hospital with left sided chest pain; he had previously been well, with past medical history of hypertension and hyperlipidemia. Upon evaluation, he was noted to have recent onset of intermittent chest pain (3-4 weeks). His blood pressure and physical exam was otherwise unremarkable (including normal heart sounds and peripheral pulses). An ECG was unremarkable, with normal rate and rhythm and no evidence of prior infarction. His serum troponin was within normal limits. Given his low- to intermediate-risk for coronary artery disease, he was referred for coronary computed tomography angiography (CTA).
Subscribe to the latest updates from Cardiovascular Advances in Motion
Findings
CTA demonstrated calcified and non-calcified plaque causing a severe stenosis in the dominant proximal right coronary artery (RCA) (Fig.1A). Additional plaques were noted in the left anterior descending and circumflex arteries, but none were deemed greater than 50% diameter narrowing. Overall, the CTA result was classified as CAD-RADS 4-V. The patient was referred to Mass General Cardiology and was promptly taken to the lab for invasive coronary angiography (ICA), where a severe right coronary artery stenosis was confirmed (Fig.1B), and revascularization was successfully performed via drug-eluting stent.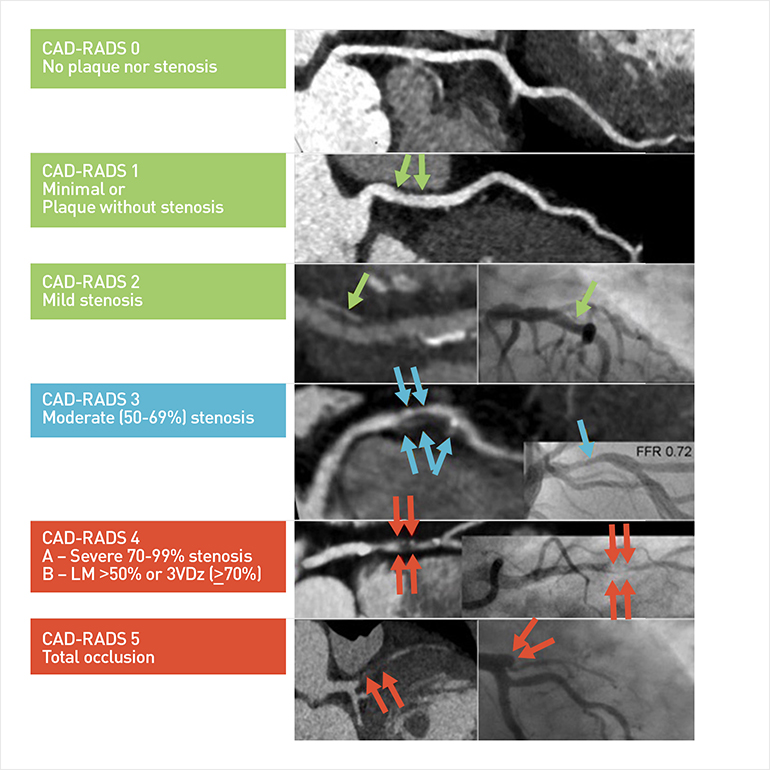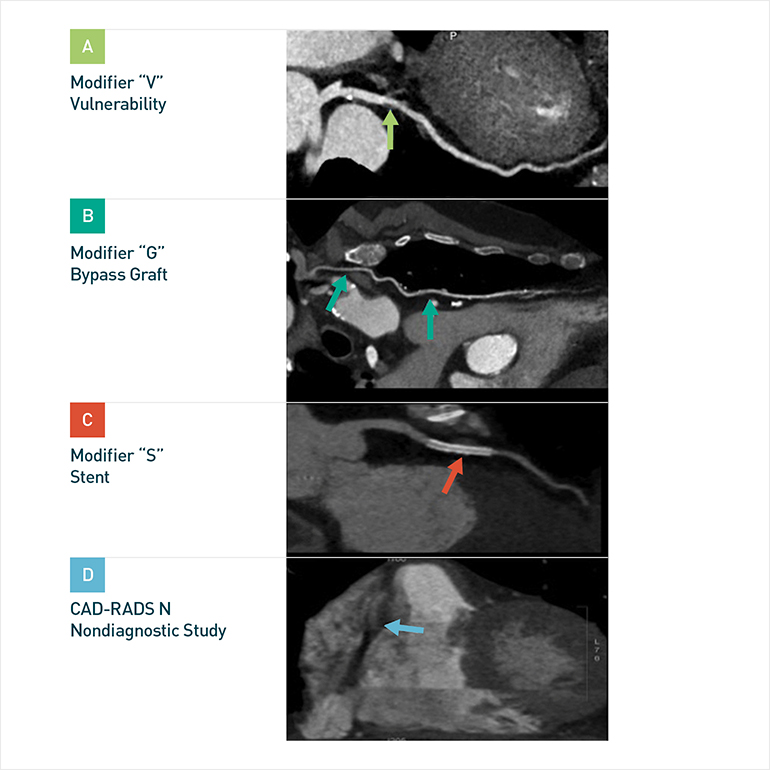 Discussion
Coronary CTA is known to have a very high negative predictive value, and positive cases should correlate with the gold standard ICA as closely as possible. Reporting of CTA can be complex on a segment-by-segment basis, but standardized stenosis thresholds and reporting templates facilitate improved communication. The new multi-societal Coronary Artery Disease – Reporting and Data System (CAD-RADS) is designed to facilitate uniform standardization of reporting (Fig. 2, 3). Patients can then be matched to suggested management pathways, which vary depending on clinical settings and patient factors (i.e. acute chest pain versus stable outpatients).
References
Cury RC, Abbara S, Achenbach S, Agatston A, Berman DS, Budoff MJ, et al. (2016) Coronary Artery Disease - Reporting and Data System (CAD-RADS): An Expert Consensus Document of SCCT, ACR and NASCI: Endorsed by the ACC. JACC Cardiovasc Imaging. 2016 Sep;9(9):1099-113. doi: 10.1016/j.jcmg.2016.05.005.
Carmona-Rubio AE, Lee AM, Puchner S, Ghoshhajra B, & Sharma UC (2015). A Review of Adherence to the Guidelines for Coronary CT Angiography Quantitative Stenosis Grading Thresholds in Published Research. Postgrad Med. 2015 Mar;127(2):194-201. doi: 10.1080/00325481.2015.995065.
Ghoshhajra BB, Lee, AM, Ferencik M, Elmariah S, Margey RJP, Onuma, O, et al. (2012). Interpreting the Interpretations: The Use of Structured Reporting Improves Referring Clinicians' Comprehension of Coronary CT Angiography Reports. J Am Coll Radiol. 2013 Jun;10(6):432-8. doi: 10.1016/j.jacr.2012.11.012