A Hybrid Model of In-person and Telemedicine Visits Facilitates Longitudinal Care Delivery
In This Article
The COVID-19 pandemic has required a rapid, widespread transition to telemedicine and remote health care
Ami Bhatt, MD, and colleagues from the Cardiology Division at Massachusetts General Hospital, describe the structure and management of their cardiovascular practice, which has now evolved into a virtual/in-person hybrid delivery model
Subscribe to the latest updates from Cardiovascular Advances in Motion
The COVID-19 pandemic catalyzed the widespread usage of telemedicine due to the unprecedented need for remote patient care. While governmental and payor organizations were surprisingly agile in adapting regulatory and payment models to ensure continued care delivery, the most impressive frameshift was in the delivery of outpatient medicine. The rapid implementation of telemedicine and remote monitoring technology led to a seismic shift from occasional virtual visits to a new standard of virtual cardiac outpatient care.
The broad dissemination of telemedicine and digital health enables frequent assessment and high-touch interventions, changing how care is delivered. The traditional model of clinic-based care has been replaced with team-based phone calls, synchronous video visits, asynchronous symptom checks and at-home vital sign monitoring with medical-grade digital devices and consumer wearables.
Patient convenience drives much of this care, as individuals recognize that the time and cost of travel to brick-and-mortar structures does not directly translate to high-value care. COVID-19 has led clinicians from hospital-centric episodic care to patient-centric continuous care. The goal is to now sustain and scale the virtual/in-person hybrid delivery model to deliver the highest quality and safest care.
Kaavya Paruchuri, MD, and Romit Bhattacharya, MD, cardiology fellows in the Cardiology Division, Jaclyn Pagliaro, MPH, clinical research coordinator in the Cardiology Division, and Ami Bhatt, MD, director of Outpatient Cardiology, Telecardiology and the Adult Congenital Heart Disease Program at the Massachusetts General Hospital Corrigan Minehan Heart Center, share the mechanism by which their cardiovascular practice transitioned during the COVID pandemic from a primarily in-person clinic to a virtual practice and finally evolved to a virtual/in-person hybrid delivery model.
The transformation involved identifying technology solutions, developing administrative workflows and supporting clinician and patient adoption. A focus on defining use cases and establishing mechanisms for fellows' clinics helped ensure a seamless fellow training experience to prepare for the future delivery of virtual outpatient cardiovascular care. Although the systems used here are specific to Mass General, the algorithms for care are generalizable to other systems.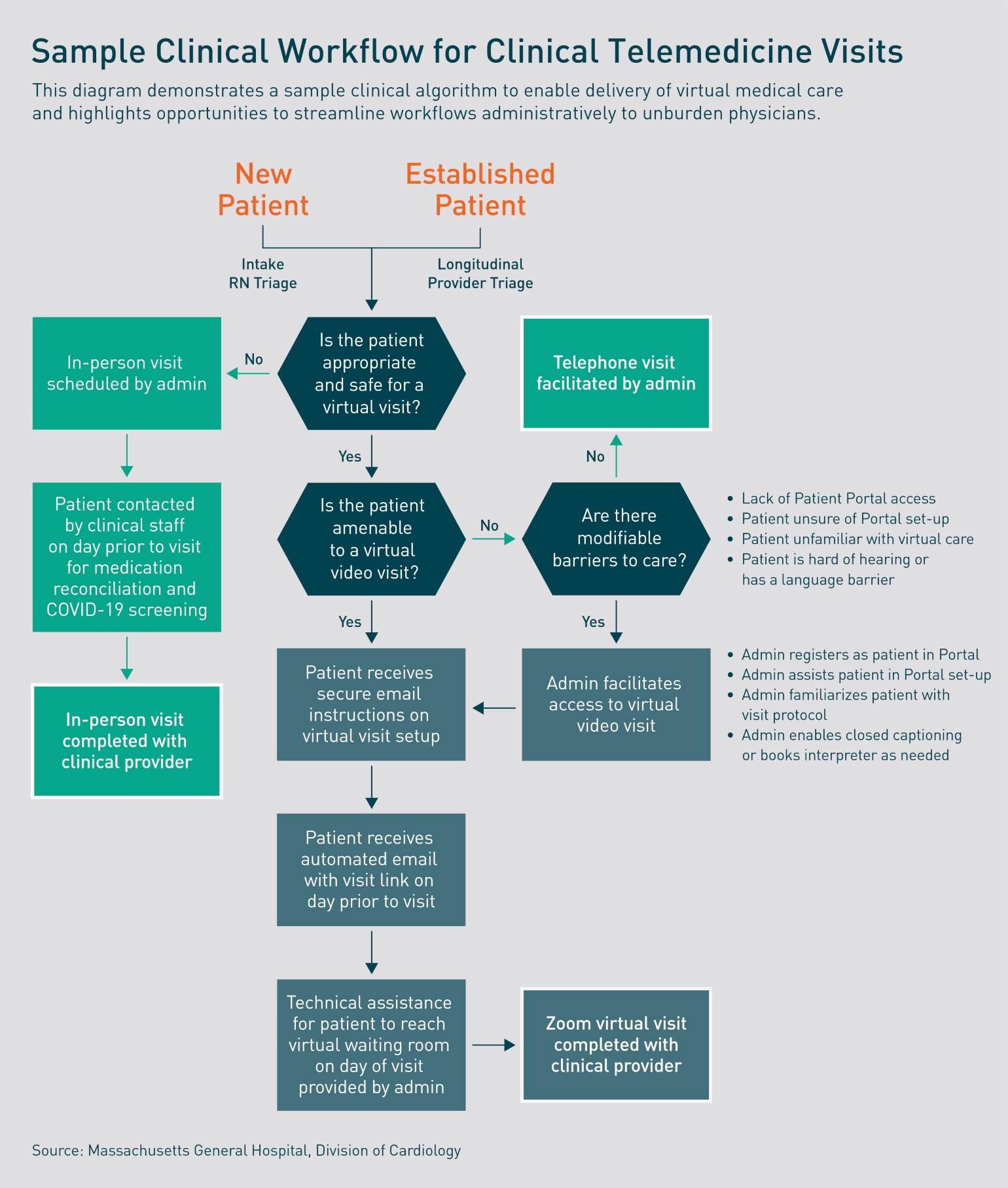 Telemedicine Clinic Evolution
On March 15, 2020, the state of Massachusetts declared a state of emergency due to COVID-19, and officially encouraged the use of televisits by establishing fiscal parity between the two. Driven by infection-control considerations and newly formulated incentives to formally document telephone calls, clinic appointments were canceled with documentation of the original in-person clinic appointment date, the rescheduled date and the change in visit type. There was rapid adoption of virtual care across all divisions of outpatient cardiology, such that 98% of all visits were virtual in the month of April 2020, and the total volume of clinical visits recovered to normal levels by June of 2020 through the incorporation of the virtual visit platform.
As in-person clinical care resumed, scheduled appointments were spaced apart to allow for safe room turnover. Therefore, to optimize clinicians' dedicated outpatient time during turnovers, cameras and speakers were retrofitted in clinic workrooms to allow for interspersed virtual visits in addition to in-person care.
Provider Training Mechanism
Providers were given instructions on how to download the Citrix platform to access Epic from their home devices (laptop, desktop, tablet or phone). Providers were also instructed to download the Zoom application.
Clinical Research Coordinators (CRCs) who were unable to conduct their research duties due to COVID-19, were trained on the patient workflow and served as test patients for clinician training and tech support for patients. Providers were also trained on workflows to allow seamless transitions across multidisciplinary team members involved in complex patient care. Provider surveys were administered centrally via the Mass General Center for Telehealth to assess comfort and proficiency with virtual visits to confirm training efficacy. Both patients and providers reported high personal levels of satisfaction with virtual care systems.
Initially, once providers were comfortable, they reviewed their schedules with administrative scheduling assistants to determine which patients they thought would be a good fit for virtual visits. However, the model quickly evolved to enrolling all patients in Patient Gateway and Zoom to avoid implicit bias in deciding an individual patient's comfort level with telemedicine. Those patients who declined were subsequently offered phone appointments. During the peak of the pandemic, CRCs guided patients through initial virtual visit connectivity and set up to streamline clinical workflows. Upon clinic re-opening, this role transitioned into the hands of medical assistants, who underwent one-on-one training with the CRCs to better support patient engagement in virtual visits.
Administrative Workflow
Administrative assistants were given a script to engage patients in the transition from in-person to virtual visits. Patients were enrolled in the patient portal and were given written and video instructions on how to download Zoom on a smart device with video capabilities (phone, tablet, laptop, etc.). If patients did not have access to a video-enabled device or internet access, a telephone visit was scheduled. As the clinic re-opened for in-person visits, clinicians were asked to maintain a virtual visit presence with limited in-person clinic time, with ratios varying according to cardiac subspecialty and patient diagnoses. Patients who had successfully engaged in telephone only visits were approached to ascertain, and address where feasible, barriers to video-based care. In preparation for in-person visits, pre-visit COVID screening and medication reconciliation were accompanied by Patient Gateway and Zoom enrollment to facilitate future virtual follow-up.
Patient Training Mechanism
Individuals enrolled in the patient portal received an automated email reminding them of their appointment, which included a link to begin their visit.
Clinical research coordinators and medical assistants provided additional technical support for patients who self-identified as having low digital health literacy. As the clinic reopened, patients and families who comprised a hospital advisory council were engaged to help identify patient perceptions regarding the safety of in-person care. This committee, the Patient Family Advisory Committee (PFAC), identified that cardiac patients were hesitant to engage in in-person care. They encouraged the promotion of virtual visits to address the importance of cardiac symptom reporting and reassure patients of the precautions being taken to ensure safe in-hospital cardiovascular care.
Cardiovascular Specific Use Cases
Although all divisions participated in virtual visits, there were particular scenarios that readily lent themselves to virtual care:
Hypertension management using at-home blood pressure (BP) cuffs provided by the population health team facilitated the uploading of home BP measurements to the EMR and provided weekly digests of BP logs for nursing and MD review. This enabled rapid medication changes and was complemented by virtual video visits for discussion of lifestyle management and medication education. Virtual visits were also used to examine and modify BP cuff use techniques
Heart failure patient management via virtual visits incorporated a physical exam, home vital sign review including weights and medication adjustments. As in-person visits resumed, home nursing services were deployed to patient homes when a virtual visit suggested that an in-person exam, diagnostics and intervention might prevent admission
The electrophysiology service deployed post-COVID admission mobile cardiac telemetry, home delivery of routine outpatient Holter monitoring and remote device checks. Despite the reopening of in-person visits, they were able to maintain a high degree of clinician and patient engagement with virtual visits
Cardio-obstetrics and adult congenital heart visits had high virtual visit adoption prior to and during COVID with both safety and convenience cited qualitatively by participants
Cardiac imaging review was primarily conducted using virtual video visits with screen sharing of imaging, associated education and establishment of care management plans. These visits remained in high demand even as in-person appointments resumed
Virtual Fellows' Clinic
The educational goals of this clinic were to continue the management of cardiovascular disease while familiarizing fellows with virtual care delivery to ensure safe and high-quality care. Under the leadership of Danita Sanborne, MD, the fellows' clinic was able to see 100% of their previous year's volume virtually during the pandemic. The precepting structure of the fellows' clinic was established using Epic-Integrated Zoom only, allowing the fellow to first conduct the visit, then move the patient into a virtual waiting room while precepting with the attending, finally inviting the patient back for a three-way video visit between the attending physician, fellow and patient. This attending-patient face-to-face also enabled the clinic to meet billing requirements.
Initially, when outpatient clinics resumed, a limited number of in-person visits were seen by assigned fellows each day with the bulk of outpatient care remaining virtual. The fellows' clinic has slowly transitioned to a hybrid model with blended in-person and virtual care staffed simultaneously by preceptors, while maintaining universal masking policies.
This allows for incoming fellows to develop a rapport with their new panels and to refine their physical examination skills via direct supervision. To ensure familiarity with virtual visits and equip fellows to incorporate similar hybrid care paradigms into their practice upon graduation, virtual care whenever possible continues to be encouraged.
Education of the next generation must continue to be prioritized in all virtual care models to sustain progress in the future.
Learn more about telehealth at Mass General
Refer a patient to the Corrigan Minehan Heart Center