New Strategies for Heart Failure Patients Improves Outcomes
In This Article
Cardiac resynchronization therapy (CRT) is one of the most common treatments for patients with moderate-to-severe heart failure; 33% of patients do not respond to these treatments
When CRT does not help, many treatment options exist
A coordinated approach in the Mass General ReACT program reduced the risks for re-hospitalizations and death by 38%
Cardiac resynchronization therapy (CRT) is one of the most common treatments for patients with moderate-to-severe heart failure, and it involves placing a biventricular pacing device to enable resynchronization contraction of the heart's ventricles. However, even with CRT and appropriate medication therapy, one-third of patients do not respond adequately to treatment.
Subscribe to the latest updates from Cardiovascular Advances in Motion
To address the needs of these patients, a new multidisciplinary team of professionals in the Resynchronization and Advanced Cardiac Therapeutics (ReACT) Program in the Corrigan Minehan Heart Center at Massachusetts General Hospital are increasingly coordinating delivery of advanced therapies, which include mechanical support devices such as left-ventricular assist devices (LVADs) and heart transplantation. The goal of ReACT is to provide a continuum of care to all heart failure patients through CRT and beyond. Research on the program published in the European Heart Journal showed that this method reduced the risks for re-hospitalizations and death.
"The ReACT program is designed to integrate all of the available therapies for patients with heart failure in one setting," explains Saumya Das, MD, PhD, co-director of the ReACT Program, which was developed in 2015 and built upon the Mass General CRT program established in 2005. "We want to provide care for all patients to get better with CRT and optimal conventional medicine, and for those who do not respond adequately, coordinate other advanced treatments like LVADs or transplantation when necessary."
The ReACT team includes heart failure physicians, electrophysiologists, sonographers, research study coordinators, research fellows and a dedicated CRT nurse practitioner, Mary Orencole, ANP. All clinicians provide coordinated care on the same appointment day in one centralized location. The key benefits of this integrated care, according to Dr. Das, include improved communication, a streamlined optimization of the patient's devices and medications, and a coordinated approach to escalating therapy, if necessary.
"We are excited by the potential of the ReACT Program to provide patients with advanced heart failure the opportune access to a growing armamentarium of invasive heart failure therapies and clinical trials," says Sunu Thomas, MD, MSc, co-director of the ReACT Program.
Each week, specialists in the ReACT program see between six to eight heart failure patients, a total of about 400 patients annually. Each patient in the program is seen one month after implantation of a pacing device, then at three months and six months. If after six months the patient has not responded, his/her care team may recommend a mechanical-support device, or the patient may see the transplant team if appropriate. Referrals are made immediately and seamlessly within the ReACT program— reducing both the time to advanced treatment and patient stress.
"Our patients are referred in with heart failure, and we manage the rest," says Dr. Das. "It's more convenient for patients to navigate and it's built for them to receive the best care possible."
Clinical trial data from 2012 that followed more than 400 CRT patients from the Mass General CRT team showed that, compared with conventional methods, this type of coordinated, patient-centered treatment through a multidisciplinary approach yielded a 38% reduction in the risk for hospitalizations and death over a two-year follow-up period. These results were consistent across every subgroup and covariant, including age, gender, presence of comorbidities and other measures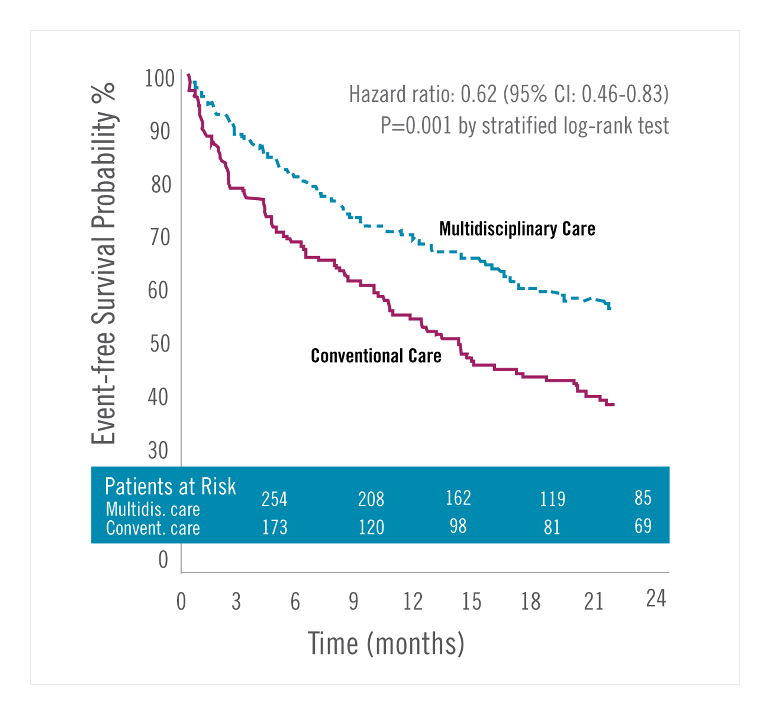 Finally, all patient data is centralized within the clinic's scheduling and patient's electronic medical records. Having a centralized records and data resource also helps Mass General physicians design and conduct research and clinical trials to further improve outcomes for heart failure patients. Currently, patients in the ReACT Program have access to more than 20 clinical trials at Mass General that involve, for instance, new types of pacing and mechanical-assist devices or stem-cell therapies. "Patients who don't have other options at other places can sometimes find their way into a clinical trial here," says Dr. Das.