Hope for High-risk Coronary Artery Patients
In This Article
Many patients with complex coronary artery disease are ineligible for surgical treatment due to high surgical risk
Factors that lead to high risks include older age, arterial disease, advanced cardiomyopathy or conditions like kidney disease, diabetes, lung disease and stroke
New suite of minimally invasive coronary and cardiac support interventions offers effective treatment alternatives
In this clinical trial, novel CTO antegrade dissection and reentry procedures at Mass General had a 90% success rate
Many patients with complex coronary artery disease (CAD) do not receive adequate revascularization to improve their symptoms and prognosis. A number of factors, including older age, anatomically complex arterial disease, advanced cardiomyopathy or serious health concerns such as kidney disease, diabetes, lung disease and stroke, may cause these patients to be denied interventional or surgical treatment. That lack of treatment for CAD can, in turn, result in a poor prognosis.
Subscribe to the latest updates from Cardiovascular Advances in Motion
Farouc Jaffer, MD, PhD, director of Coronary Intervention and the Chronic Total Occlusion Percutaneous Coronary Intervention Program at Massachusetts General Hospital's Corrigan Minehan Heart Center, offers new therapeutic options for these so-called complex and high-risk indicated patients (CHIP). Over the past year, Dr. Jaffer and his colleagues performed more than 200 specialized percutaneous coronary intervention (PCI) procedures on CHIP patients, nearly half of whom presented with a chronic total occlusion (CTO), where traditional PCI techniques are inadequate. "Anatomical and clinical complexity is increasingly part of the landscape of PCI," Dr. Jaffer explains, adding that he seldom excludes patients from PCI from an anatomical standpoint.
Advanced Techniques for Chronic Total Occlusions
Depending on the anatomical characteristics of a coronary stenosis, Dr. Jaffer and his team offer CTO patients a variety of advanced interventions for PCI. In a procedure known as antegrade dissection and reentry, the interventionalist dissects the subintimal plane of the artery and directs a controlled knuckle wire forward, down the side of the artery past the CTO until a suitable reentry zone is reached. Next, the true lumen is reentered using a specialized self-orienting balloon that allows controlled reentry via a specialized guidewire (Fig. 1). The two arterial ends are connected via a true lumen-subintimal-true lumen pathway, and then balloons and stents are implemented to establish revascularization. A second option, called retrograde PCI, opens CTO blockages after gaining entry from the backside of the heart via collateral microchannels.
Mass General participates in the largest registry of these advanced cardiac procedures nationally, which tracks the effectiveness of its interventions. The results, published online in April 2016 in the International Journal of Cardiology, show overall success rates reaching 90% in more than 1,310 CTO antegrade dissection and reentry procedures.
Prior to performing a procedure, Dr. Jaffer and members of his team dedicate a minimum of four hours to each case. Inside the treatment room, the interventional team follows a step-by-step protocol prepared by Dr. Jaffer, a necessity since a CHIP case can last hours longer than a routine angioplasty.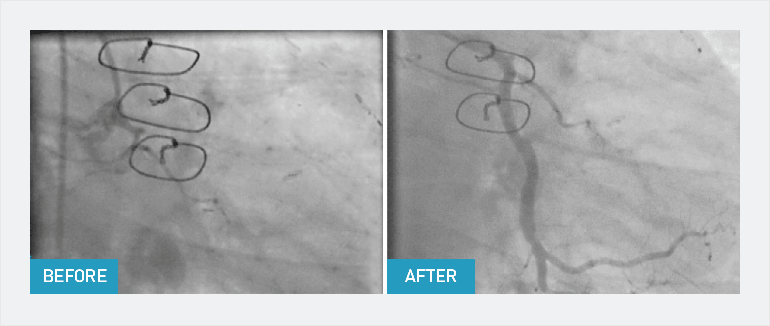 Multispecialty CAD Heart Team
Dr. Jaffer also directs the Mass General CAD heart team, which reviews many complex PCI referrals. This interdisciplinary team comprises surgeons, interventional cardiologists and referring cardiologists, as well as imaging, heart failure and medical specialists who collectively decide the best course of action for individual patients. "For every case presented, we assess metrics around risk prediction and hear everyone's strategic opinion," says Dr. Jaffer. "We believe this community-based joint decision making process leads to better outcomes for patients." Since the CAD heart team was formalized in fall 2014, more than 125 meetings have been conducted to assess treatment strategy for hundreds of patients with complex cases including hybrid PCI-coronary artery bypass grafting, PCI with mechanical cardiac support options, CTO PCI, traditional CABG with durable mechanical cardiac support and transplantation options.
"Almost all high-risk patients we see will have options for revascularization between integration of interventional cardiology and cardiac surgery," explains Dr. Jaffer. "We can do this because the CTO program has given us the expertise to carry forward the most difficult interventions under high-stress conditions and get people through safely and successfully."
For more information, call 866-644-8910