Innovative Therapy for Low Back Pain Takes the Fight Directly to the Source
In This Article
Chronic low back pain (CLBP) is a leading cause of disability, affecting some 619 million people around the world in 2020
Because CLBP is often considered non-specific—that is, without clear cause—treating it can be a challenge
Research has shown that the vertebral body itself can be a pain generator in a patient without a fracture
An emerging technique can help patients with a specific type of low back pain by targeting the source of the pain within the vertebral body
Mildred Mannion, RN, an operating room nurse at Massachusetts General Hospital, had experienced low back pain for more than a decade. The pain was intermittent, chronic, and unpredictable, which meant she never knew when or how badly it would impact her quality of life. So the nurse became a patient. She and her doctors sought to address the pain with a variety of time-tested treatments, including different types of injection procedures. Still, none of them provided her with anything close to permanent relief.
Subscribe to the latest updates from Radiology Advances in Motion
In 2019, Teresa VanderBoom, NP, a nurse practitioner working with interventional spine procedures in Mass General Radiology, spoke to the hospital's nursing staff about back pain in healthcare professionals. During her presentation, VanderBoom described a procedure recently introduced to the hospital by neuro-interventionalist Joshua Hirsch, MD: a procedure called radiofrequency (RF) ablation of the basivertebral nerve (BVN). Intrigued, Mannion later reached out to see if she might be a candidate. A formal consultation concluded that she was, and she underwent the procedure that October.
"The relief was almost immediate," she says now. "I was able to return to running and exercising in six weeks, without pain. I have confidence in my back now and, through exercise, have been able to strengthen it."
Treatment Offers New Hope
Chronic low back pain (CLBP) is a leading cause of disability in developed countries and across the globe. According to the World Health Organization, it affected some 619 million people in 2020. By 2050, the number of cases is expected to increase to 843 million. Diminishing work productivity as well as quality of life and mental well-being, CLBP results in tremendous economic burden both to the individual and societally. Unfortunately, treating chronic low back pain can be challenging, not least because it is often deemed non-specific—that is, without clear cause.
RF ablation of the BVN offers new hope to patients who experience a specific type of chronic low back pain.
"Elegant basic science research has demonstrated that the BVN carries pain signals from the vertebral endplates," Dr. Hirsch says. "These seminal observations elevated the vertebral body to a potential focus as a pain generator in a patient without a fracture. That is, CLBP in specific patients could result from vertebrogenic pain."
With this improved understanding of the vertebrae as a potential source of CLBP in properly selected patients, doctors are better positioned to treat the pain.
RF ablation is a well-recognized method of targeting nerves. Over the past two decades, investigators have hypothesized that RF ablation of the basivertebral nerve could be an effective treatment of vertebrogenic pain. The minimally invasive procedure works by targeting the BVN, ablating the nerve, and thus stopping pain transmission at its source. With full ablation of the nerve, alleviation of vertebrogenic pain stemming from the levels that are treated should be permanent.
SMART and INTRACEPT Trials
The first clinical trial to explore the safety and efficacy of the technique was the SMART Trial, a Level I, randomized blinded sham-controlled trial. First reported in 2018, this study found that patients treated with RF ablation of the BVN exhibited significantly greater improvement in ODI at three months than sham-treated controls (a 20.5-point decrease vs. a 15.2-point decrease). ODI is a questionnaire-based assessment of quality-of-life impairment in patients with low back pain or spinal cord disease and injury. These results have proven durable at five years and beyond.
Dr. Hirsch had been following the SMART trial carefully. Buoyed by the positive results, he agreed to serve on the Data Monitoring Committee of the INTRACEPT Trial. The clinical trial compared BVN ablation to standard care for properly selected patients with vertebrogenic pain. One of the committee's tasks was to evaluate the findings of a planned interim analysis.
"I expected the results to be positive," he says. "Pain treatments generally do well in studies against conservative therapy. The data was so profoundly positive that the data monitoring committee said, 'We think it's unethical to continue this study." Continuing it, he explains, would have been denying patients access to a treatment with clearly demonstrated benefits.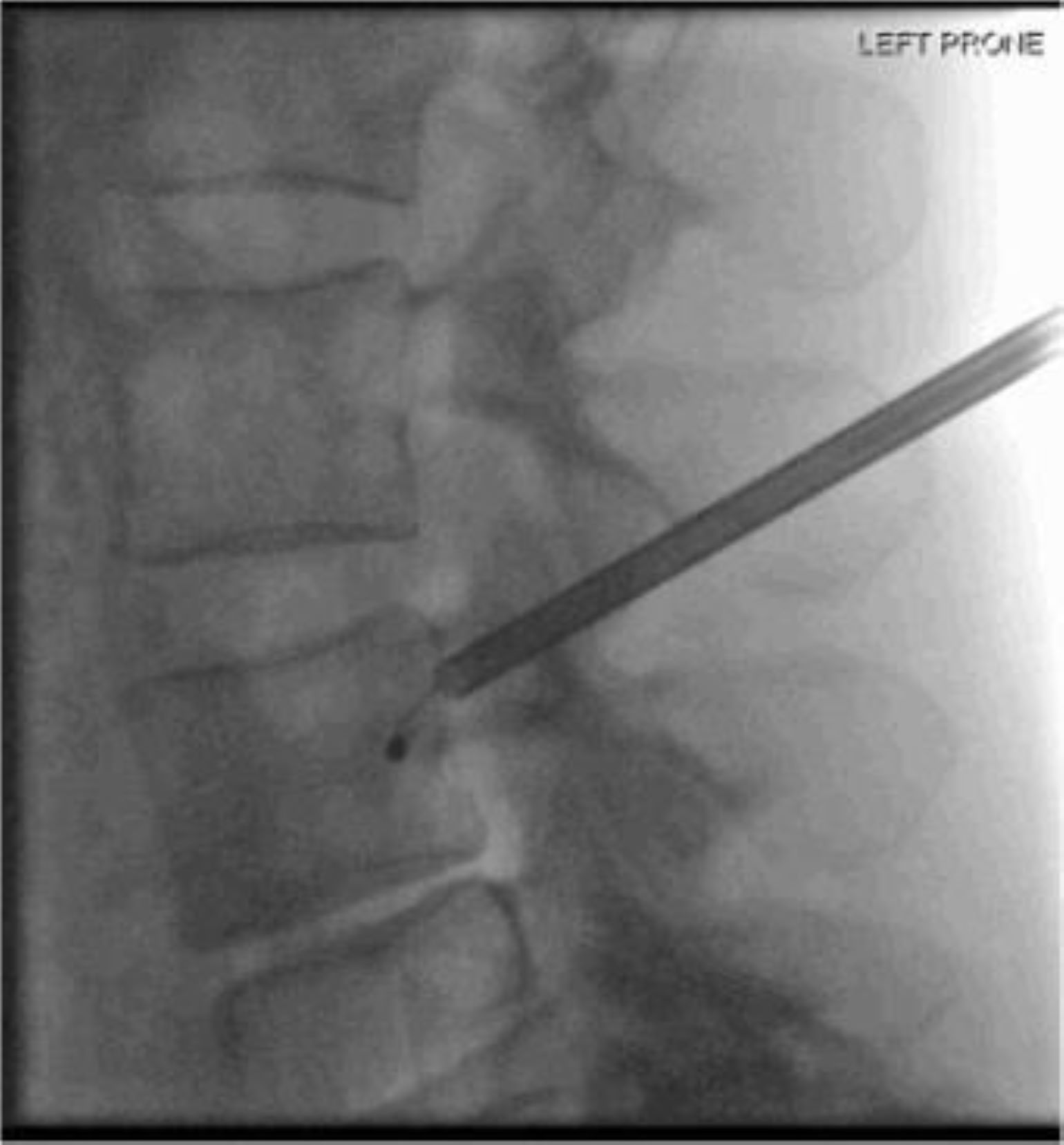 Dr. Hirsch felt strongly enough about the procedure that he incorporated it into his practice and subsequently engaged insurance companies to ensure it was covered, both in his practice and more generally for patients who might benefit from it and fit the inclusion criteria. Today, RF ablation of the BVN is covered by Medicare with a Category 1 CPT code and many commercial payors. Interestingly, some of the earliest patient success stories at Mass General, including Mannion's, were hospital employees—the insurance offered through the hospital provided a unique pathway while other insurers were still learning about the procedure.
When Non-specific Pain Becomes Specific
The question remains: who should be treated with RF ablation of the BVN? Dr. Hirsch describes three criteria.
The first requirement is that the patient has had low back pain for over six months. This is not a treatment for acute pain. Many patients have had LBP for far longer—that is, for years rather than months.
The second is that the patient has failed "traditional conservative therapy," as Mannion had. This criterion is not surprising, Dr. Hirsch says, as "true verebrogenic pain would not likely be helped by many of the standard medical therapies."
The third requirement for diagnosing vertebrogenic pain is the presence of Modic Type 1 or Type 2 changes on MRI between L3 and S1. Dr. Hirsch elaborates on this final requirement. Clinicians and biomedical researchers have long understood that better subgrouping of patients with low back pain would enable more targeted and more effective treatment. In more recent decades, they have identified MRI specific biomarkers of vertebrogenic pain in the absence of compression fracture.
MRI is exquisitely sensitive to changes in the bone marrow. Early in the MRI experience, radiologists weren't sure what to make of them and would often describe findings in the bone/disc complex as "can't rule out discitis/osteomyelitis." To help ease concerns about these findings, in 1988, Michael Modic, MD, and colleagues described a 3-point degenerative cascade, now known as Modic changes: Type 1 (edema), Type 2 (fatty change), and Type 3 (sclerosis).
The SMART and INTRACEPT trials demonstrated that, in patients with the vertebrogenic pain triad, including the imaging biomarkers, RF ablation of the BVN works in the majority of patients. Dr. Hirsch believes that treatment results will improve further with continued refinement of the biomarkers, leading to ever-broader acceptance of the approach. He is thrilled, he says, with being a part of this "paradigm shift" in identifying patients and now treating them for vertebrogenic pain.
Dr. Hirsch participated in the data monitoring committee of the INTRACEPT trial and currently serves as a consultant for the company that developed this therapy.
Learn more about interventional radiology at Mass General
Request an appointment in interventional radiology