Innovation in Carotid Artery Stenting (CAS)
In This Article
For patients with carotid artery stenosis, the traditional surgical option to prevent stroke has been carotid endarterectomy (CEA)
Some patients with medical comorbidities or anatomical issues may have a higher chance of surgical complications including stroke; carotid artery stenting (CAS) is an alternative
Massachusetts General Hospital leads national and international clinical trials to investigate the safety and efficacy of CAS and other treatment options
Clinical trials at Mass General show comparable results to CEA with less risk
For patients with carotid artery stenosis, the traditional surgical option to prevent stroke has been with a carotid endarterectomy (CEA). In this procedure, surgeons clamp off the carotid artery in the neck above and below the site of the plaque, clean the artery out, and sew a "patch" to widen the previously narrowed region. However, some patients with medical comorbidities or anatomical issues are considered high-risk for CEA. They may have a higher chance of surgical complications, including stroke and local nerve issues. For these patients, carotid artery stenting (CAS), where a stent mounted on the balloon is inserted to widen the artery, is an alternative. Massachusetts General Hospital specialists continue to lead national and international clinical trials to investigate the safety and efficacy of CAS and other treatment options.
Subscribe to the latest updates from Cardiovascular Advances in Motion
Stenting Outcomes Comparable to Endarterectomy
The SAPPHIRE clinical trial, published in 2004, found results were similar for both high-risk patients who received stents and those who received CEAs. However, the question remained: How does CAS compare with CEA as a treatment for standard-risk patients?
Kenneth Rosenfield, MD, section head for Vascular Medicine and Intervention at the Mass General Fireman Vascular Center and a pioneer in CAS, was the principal investigator for the ACT I trial, published in The New England Journal of Medicine in March 2016. This trial looked at asymptomatic patients, who comprise the vast majority of patients undergoing revascularization, and found that CAS was equally as effective as CEA in treating carotid stenosis.
Meanwhile, the CREST 1 trial, which was conducted at Mass General and other sites, compared CAS and CEA for both symptomatic and asymptomatic patients. It also found that stenting was equally as safe and effective as CEA.
Mass General is now participating in the CREST 2 trial, studying whether patients with carotid narrowing and no symptoms are better treated with medicine alone, medicines plus stent, or medicines plus surgery. Because of advances in medical management in the past decade, such as improvements in anti-hypertensive medications, statin therapy and anti-platelet therapy, progression of carotid artery disease has been slowed, and stroke rates reduced, for many patients. The CREST 2 trial includes these medications as well as coaching on diet and exercise, and regularly monitoring blood pressure.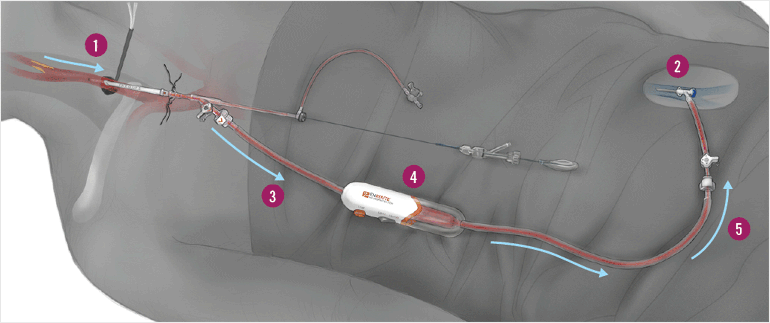 A Less-Invasive Device
One of the challenges with stenting is protecting the brain from potential debris released during the procedure that can cause stroke. A new device tested by at Mass General appears to lower the risk of stroke after a stenting procedure. They recently led the ROADSTER trial, a multicenter study that aimed to test the safety and efficacy of the transcarotid artery revascularization (TCAR) procedure in patients with carotid artery stenosis. The results, published in the Journal of Vascular Surgery in November 2015, showed the lowest chance of perioperative and postoperative stroke for any trial done on stenting: Only 1.4% of patients experienced a stroke (Fig. 1).
Using a device called the ENROUTE® Transcarotid Neuroprotection System (NPS) (Fig. 2), the surgeons are able to reverse blood flow away from the brain and filter out debris, allowing the safe insertion of the stent to open up the artery. This entire procedure only lasts an average of one hour compared with two and a half hours for traditional surgical options.
The new system reduced the number of strokes resulting from stenting for two high-risk groups: symptomatic patients who experienced warning signs such as transient loss of vision, difficulty with speech or weakness in an extremity, and patients over age 75.
Call the Fireman Vascular Center at 877-644-8346
Refer a patient to the Vascular Center